Between the endless boxes of snacks and the 20 minutes it takes you to find the cornstarch, your kitchen pantry is in dire need of an overhaul — and what better motivation than the start of a new year? Take control of your kitchen and set up a pantry that'll put even Martha to shame (Stewart, that is). From pantries featuring a refreshing pop of color to containers that'll make your neat-freak dreams come true, scroll on down and find all the pantry organization you need to make 2021 your neatest year yet.
---
Tall Order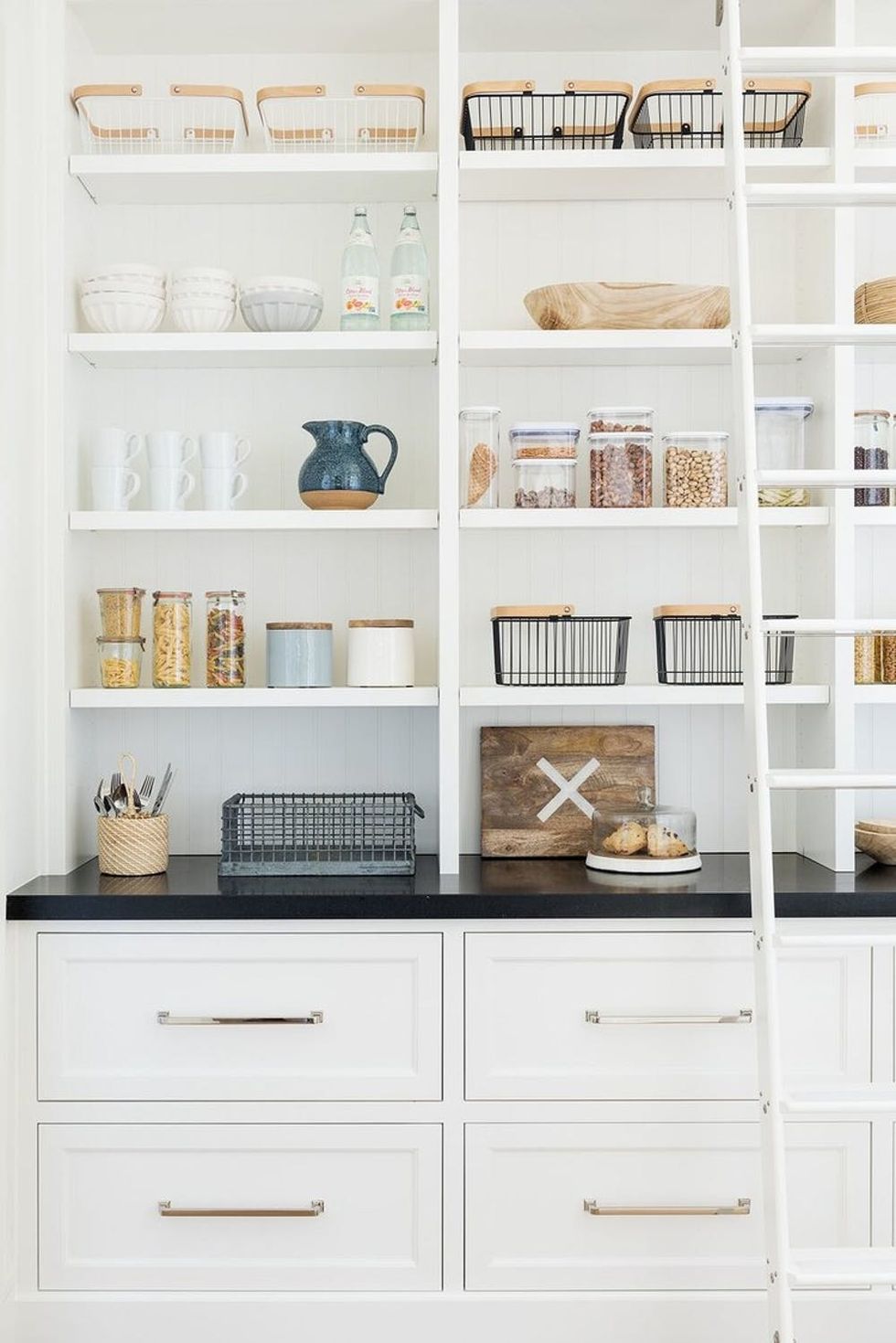 Maybe it's the result of watching Beauty & The Beast a few too many times, but this library ladder has us totally obsessed with vertical pantry storage. (via Studio McGee)
Hidden Treasures
Basket Love
SHOP PANTRY ORGANIZERS
Door Rack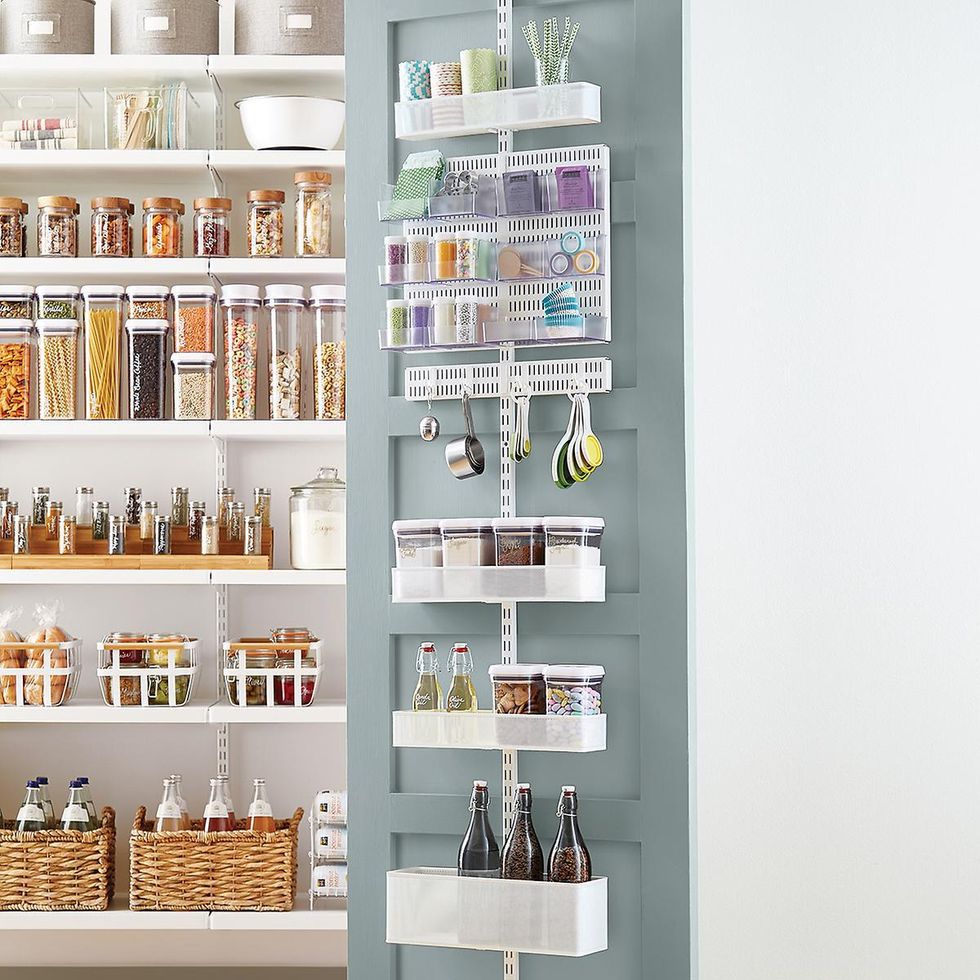 Multipurpose Bins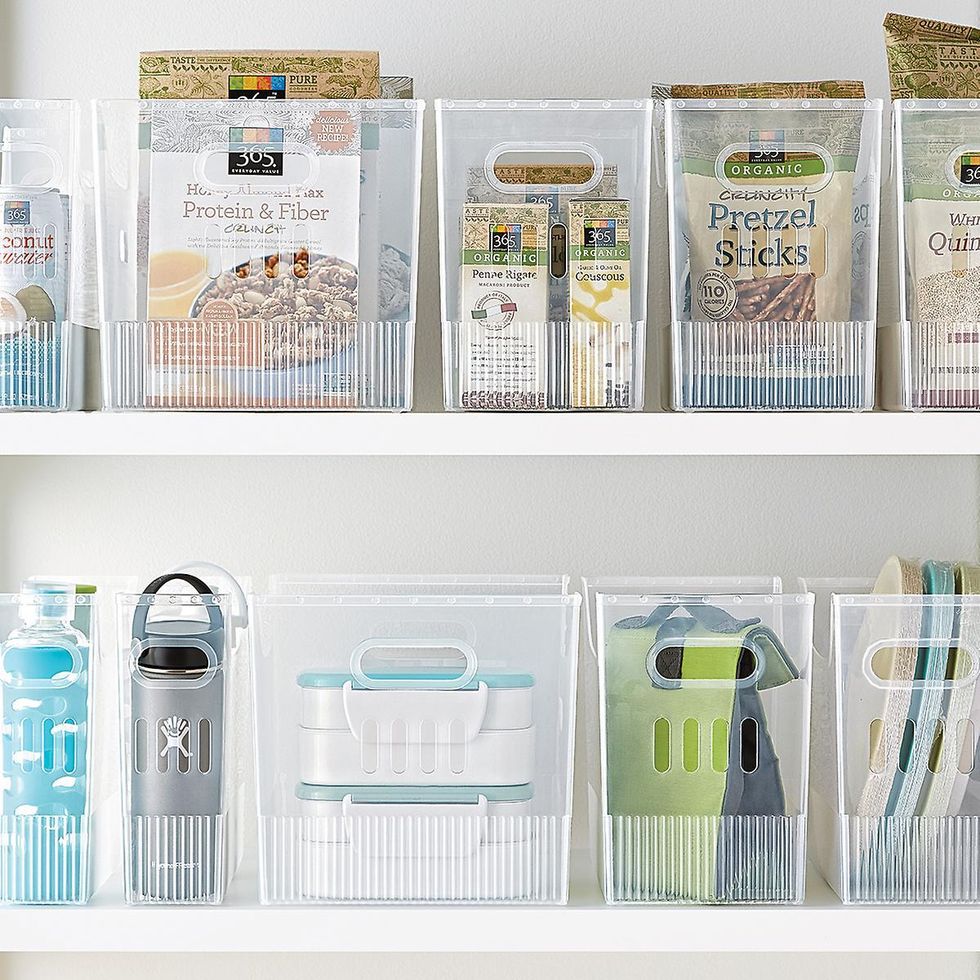 20-Pc Set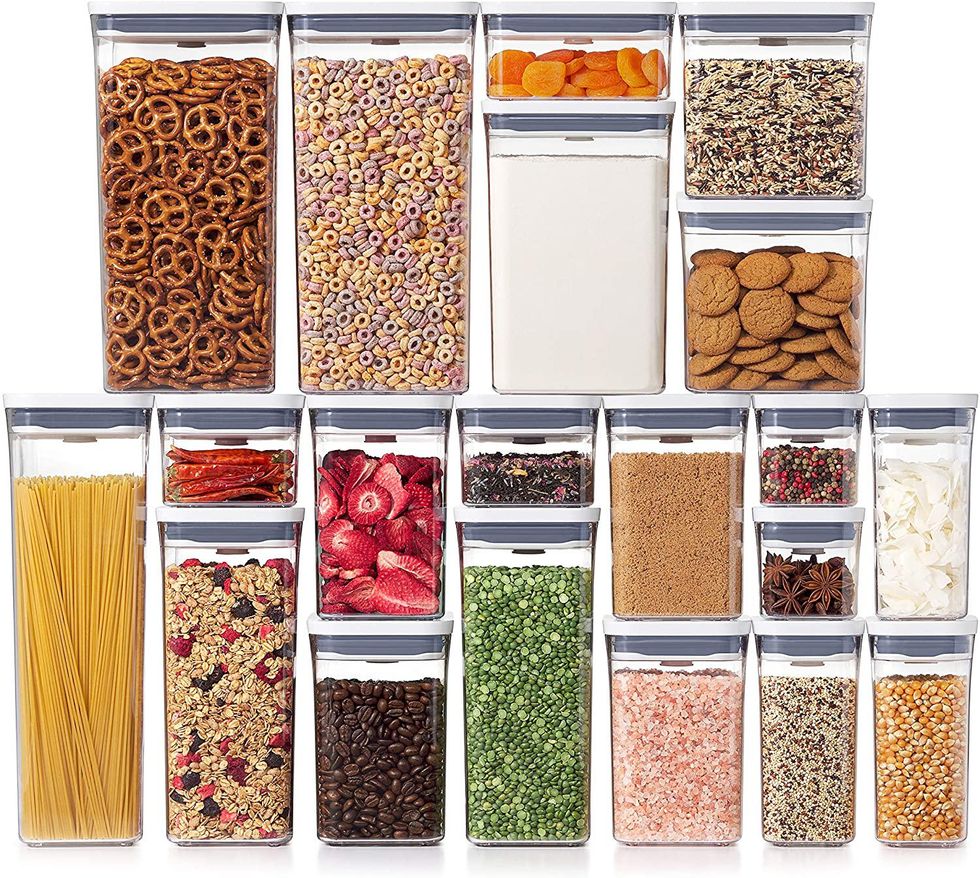 Potato Crate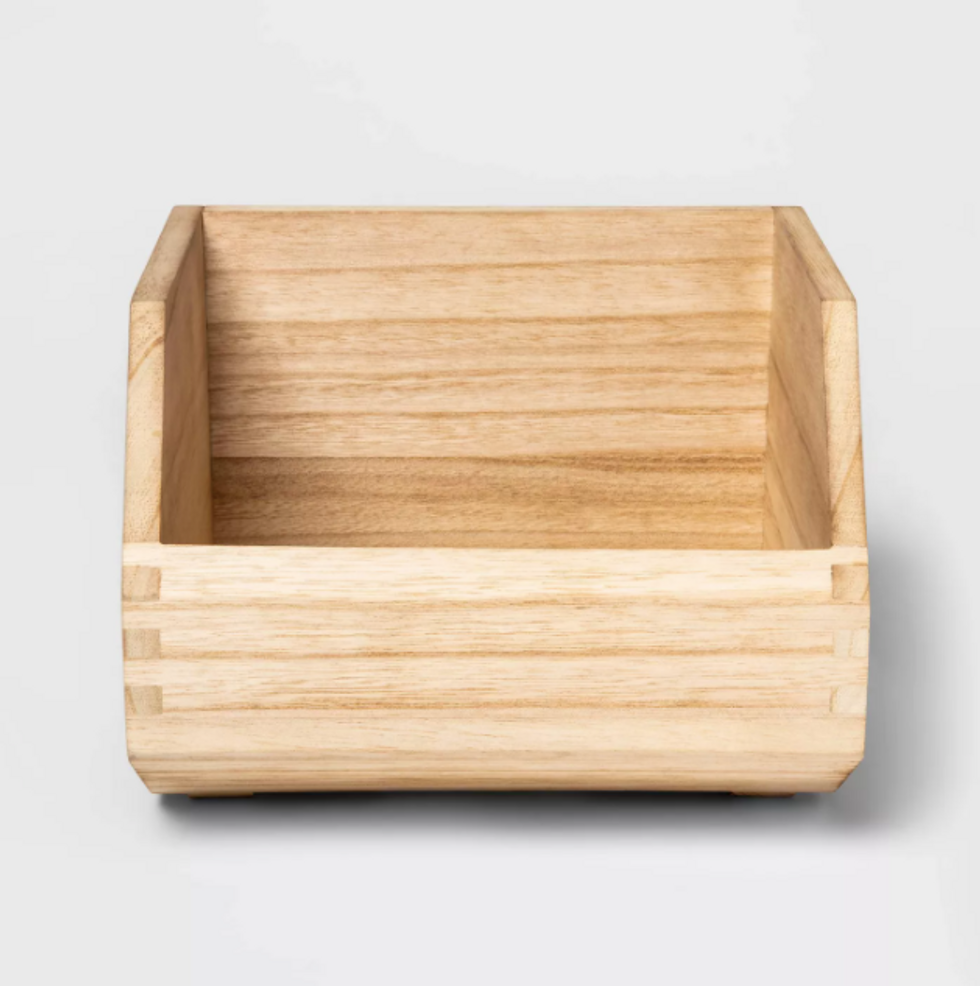 Compartmentalize Containers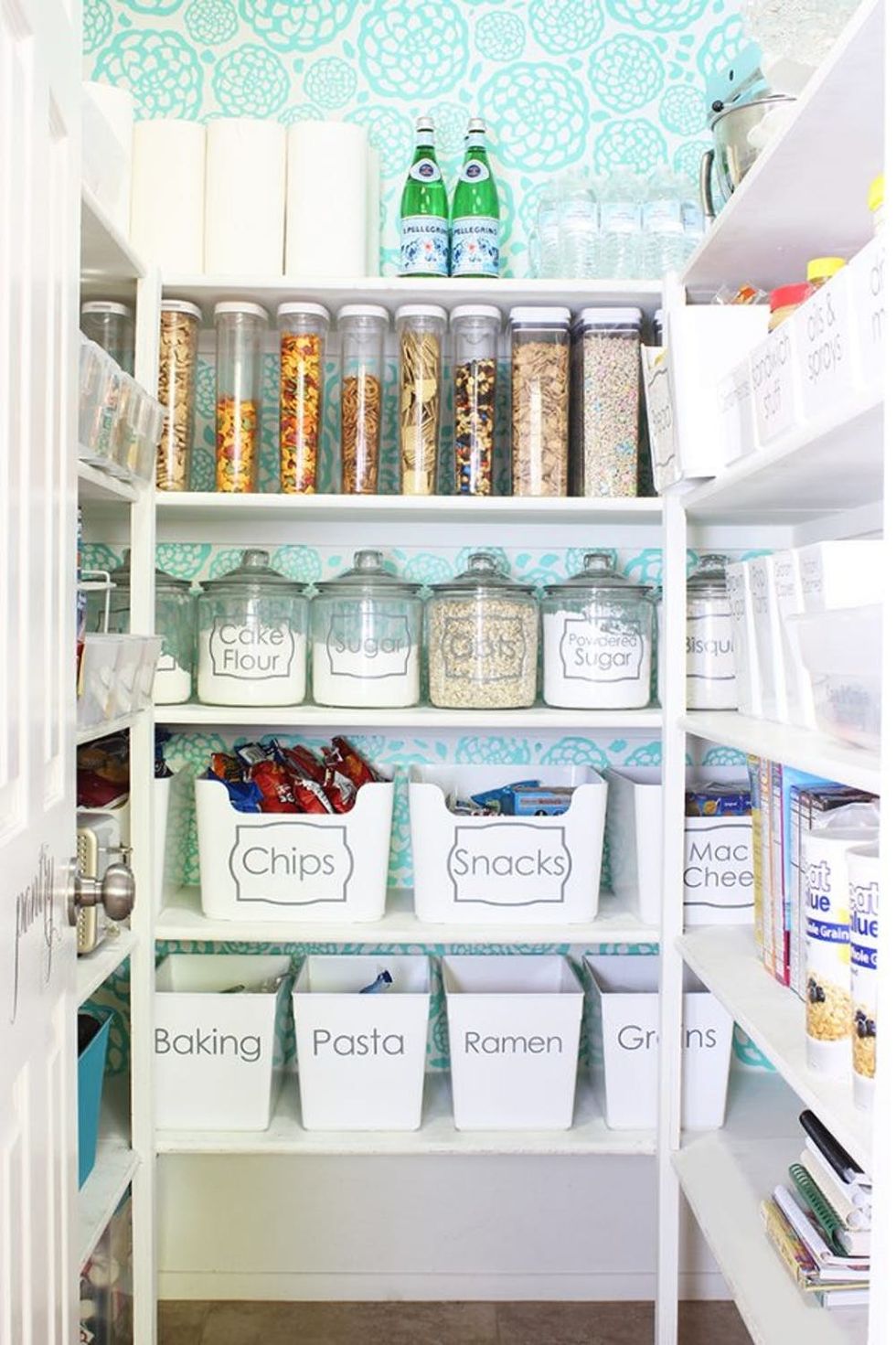 For those of you who already have a tidy pantry, take your kitchen closet to the next level by organizing your containers by shape and size. The uniform look of every shelf is seriously making us swoon. (via Classy Clutter)
Free Printables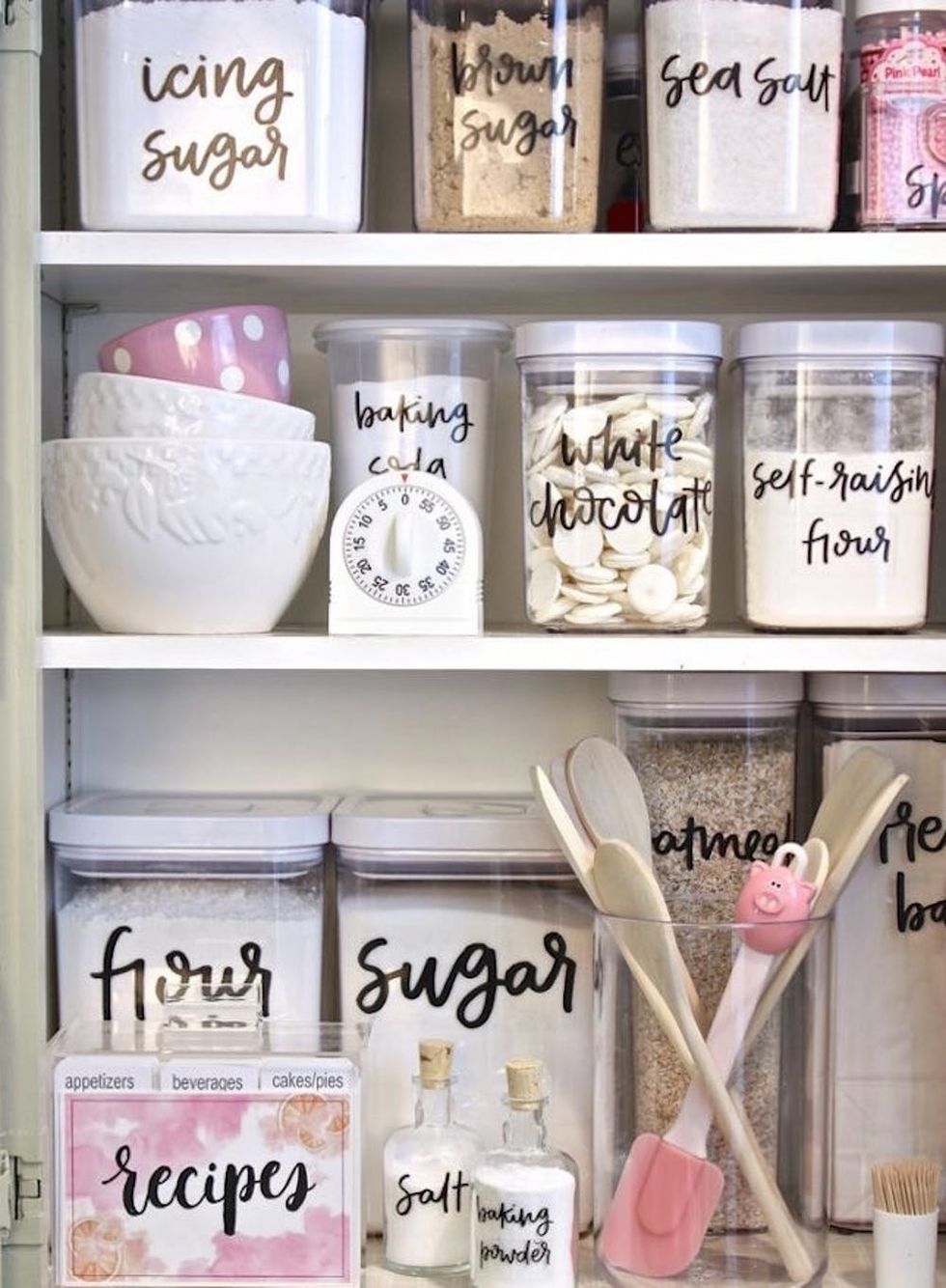 The devil is in the details. Hand-lettered labels and sweet pops of pink give this girlish pantry a very feminine and well-designed appeal. (via The Creativity Exchange)
Tucked Away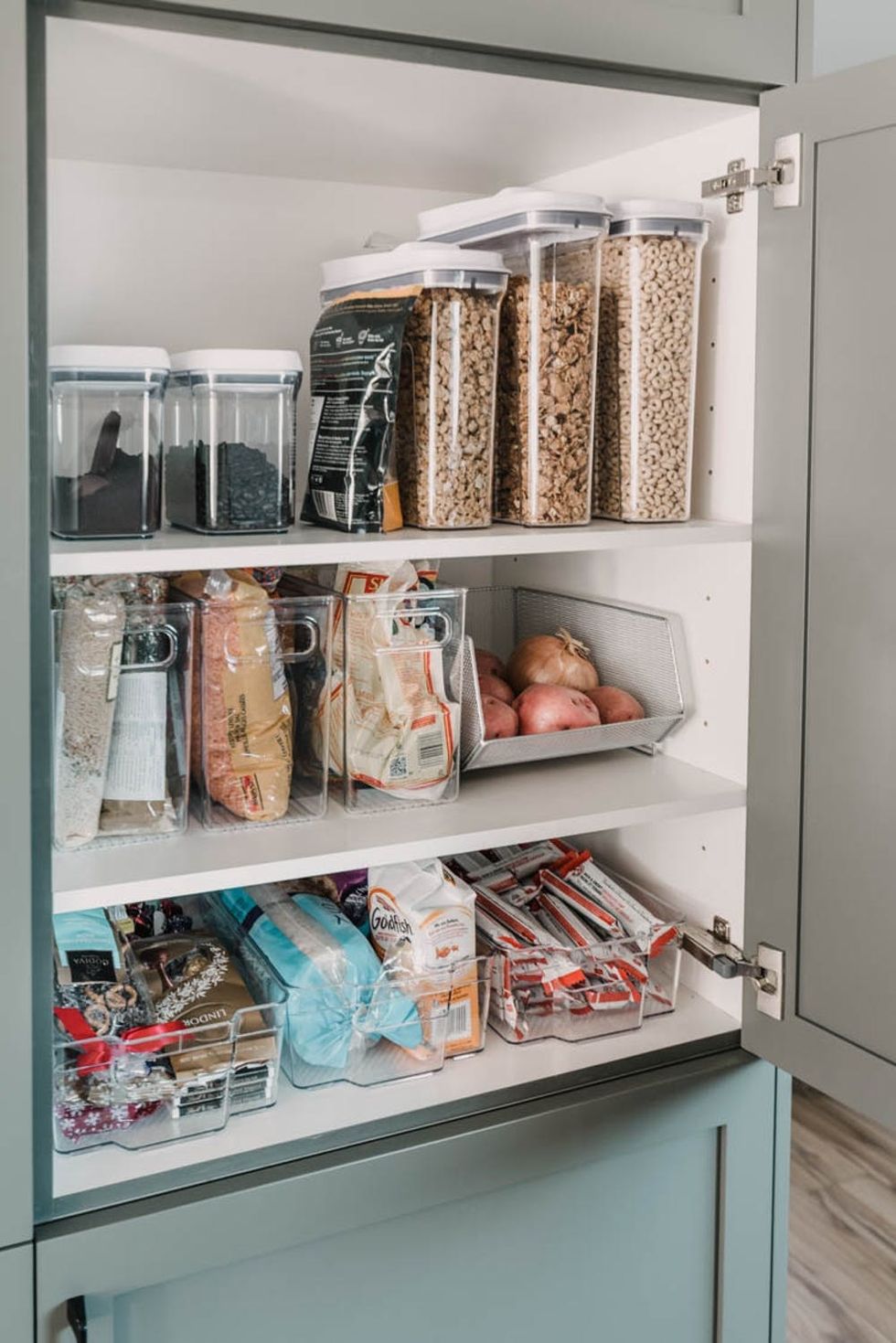 You'd never guess there was a cornucopia of delicious snacks hidden behind this cabinet door, which is exactly why we love it. Lemon Thistle also shares printables and fridge tips to help you get even more organized. (via Lemon Thistle)
Fresh and Simple
Pay No Attention to What's Behind the Curtain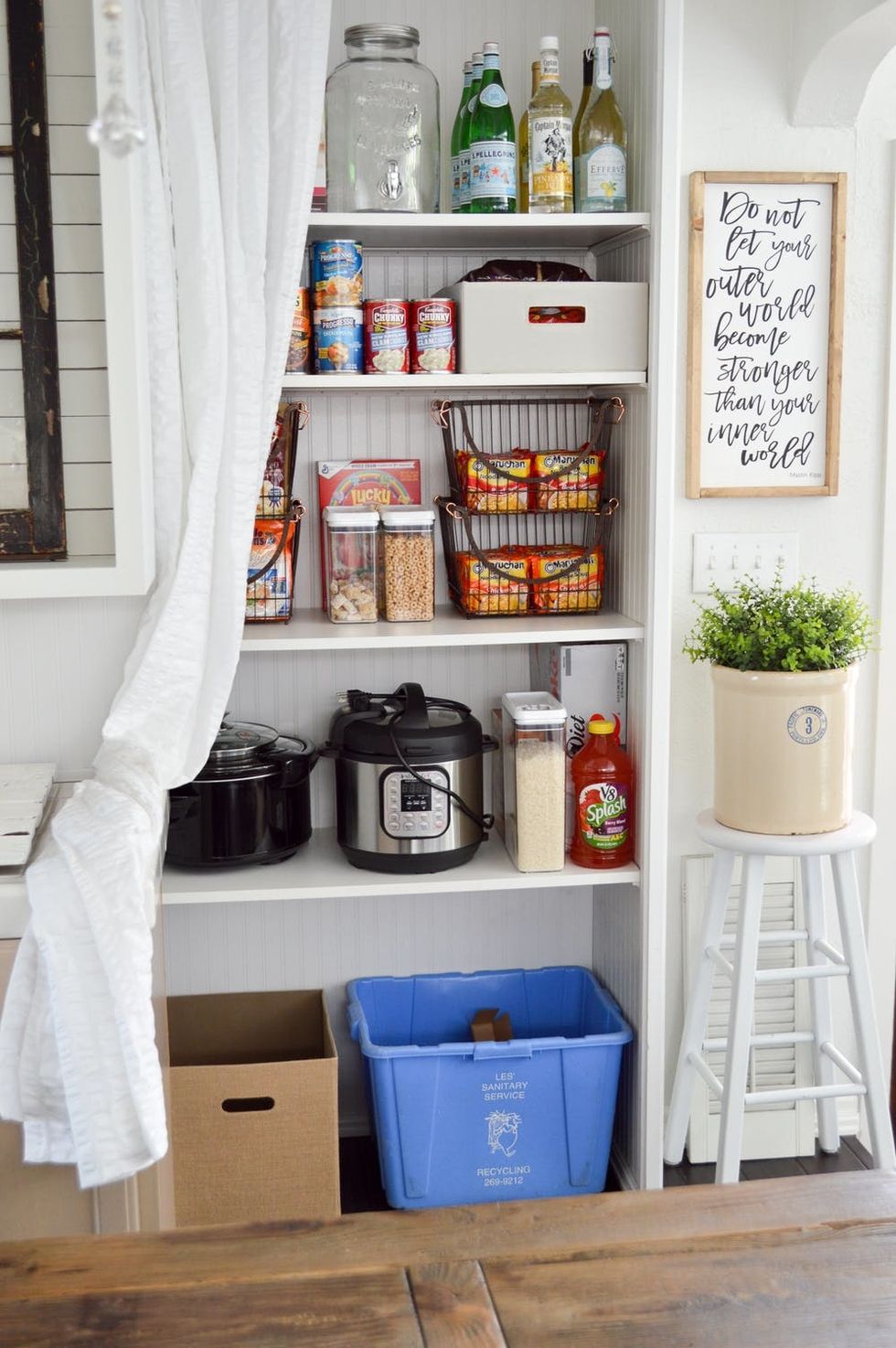 These genius built-ins would be easy to fake. All you need is a bookcase and a curtain to create a makeshift pantry that works. (via Fox Hollow Cottage)
Back In Black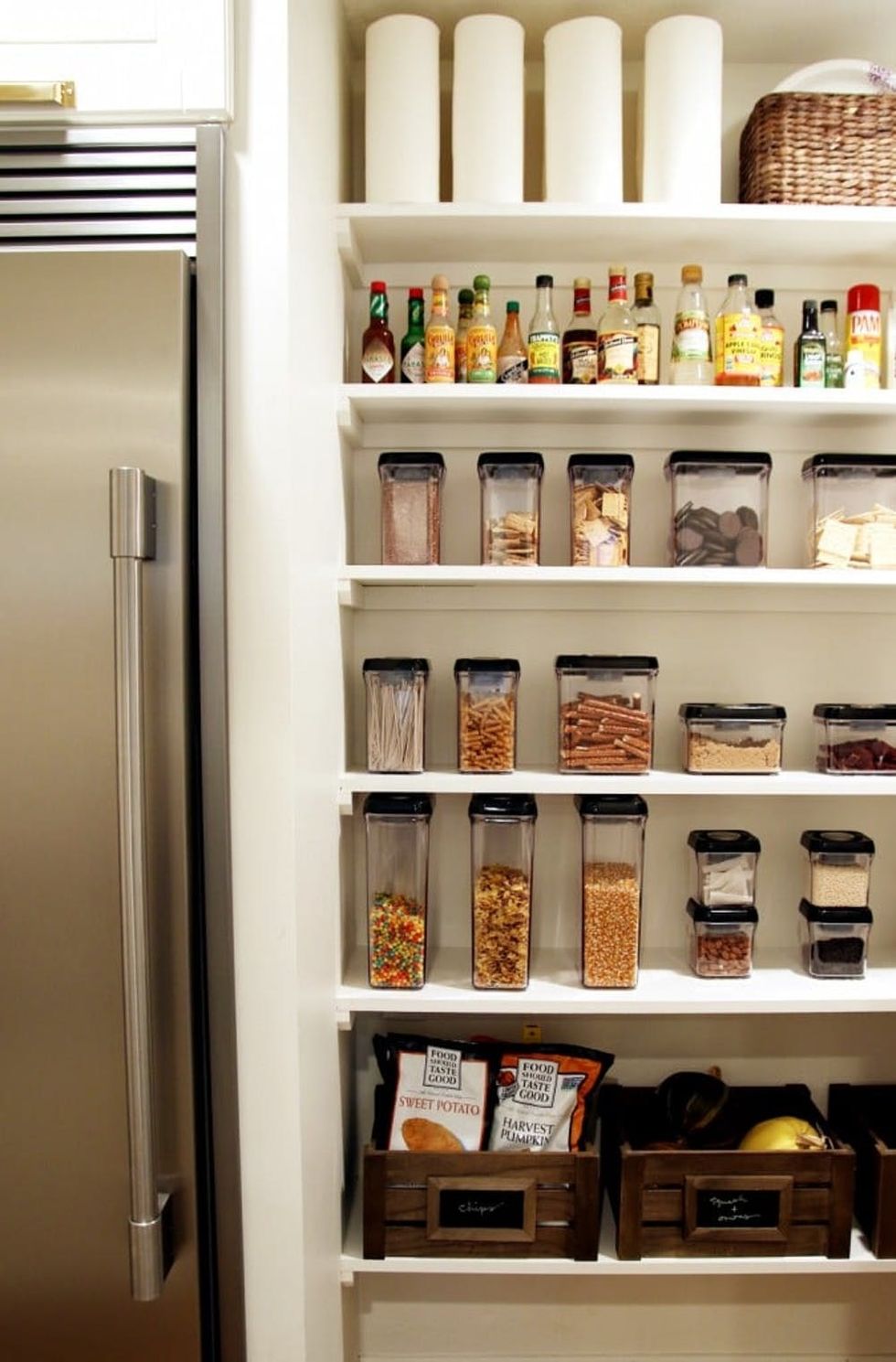 Consistency is key when creating a truly Insta-worthy look. Chris and Julia went in hard with the black-lidded boxes, and the decision definitely paid off. (via Chris Loves Julia)
Secret Storage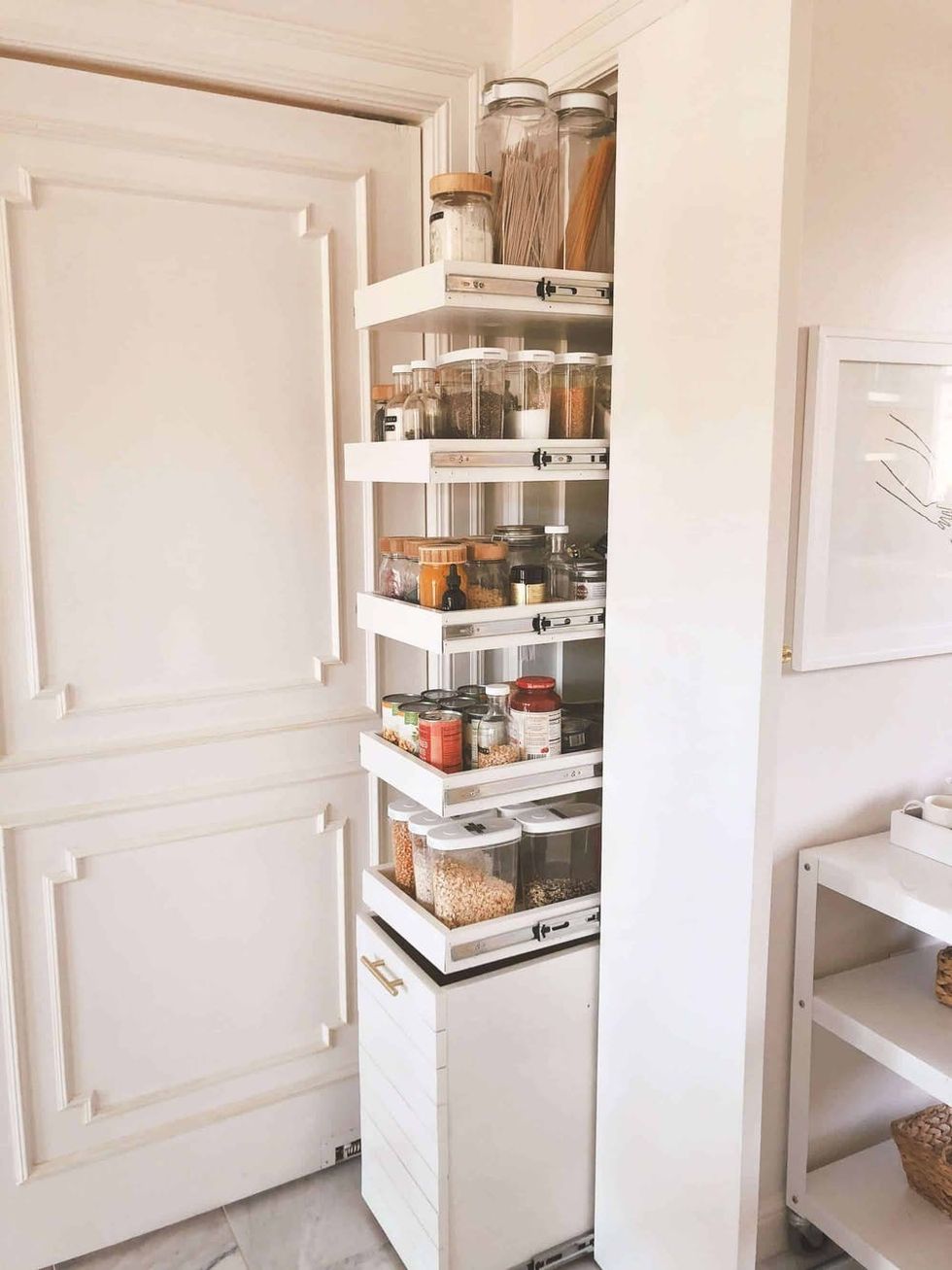 Everybody has that one weird little corner of the kitchen that's too big to ignore, but too small to make for practical storage, right? A clever DIY fix turned this wasteland into a food wonderland. (via A Beautiful Mess)
Wallpaper Wonder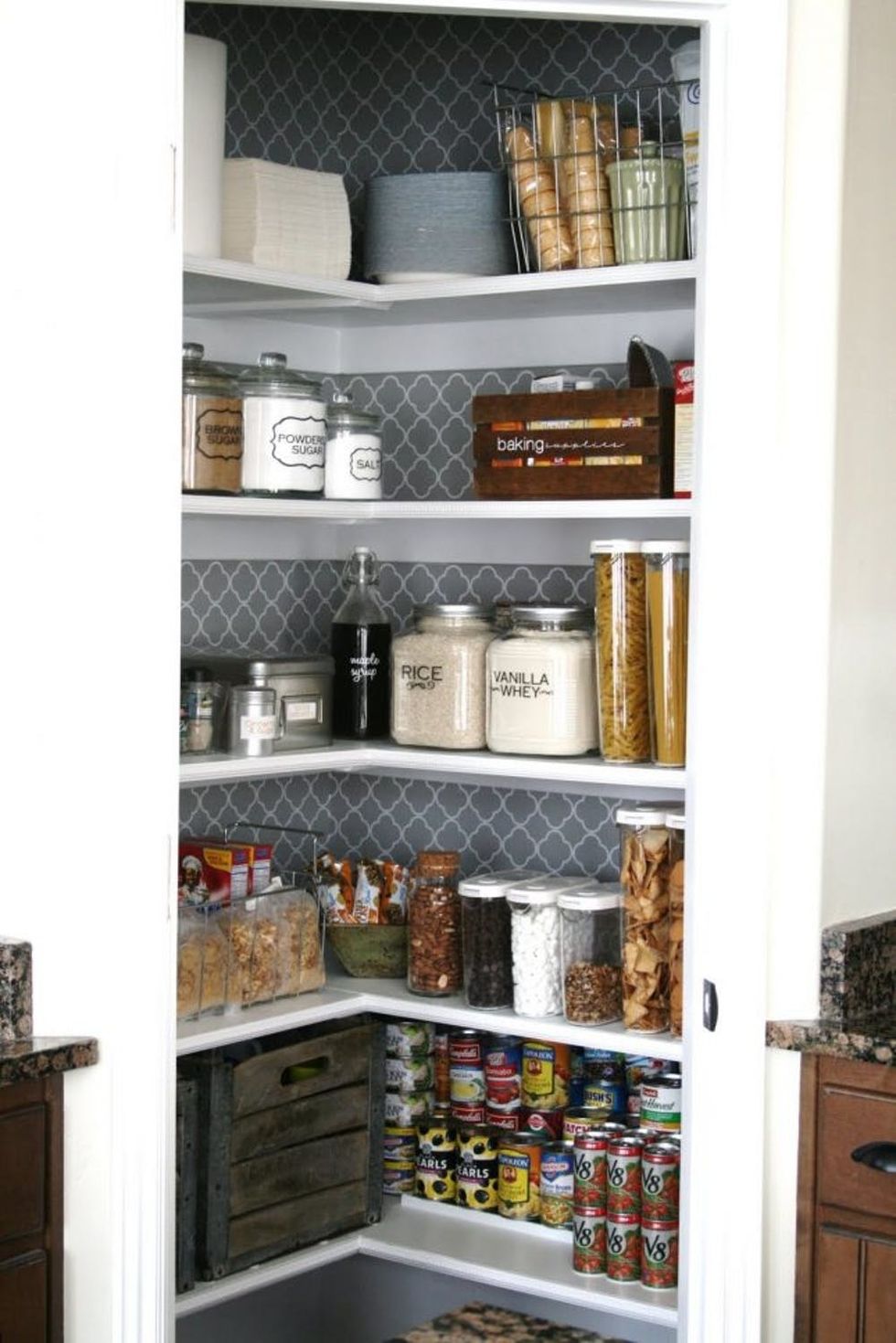 You have your sleek containers, and you've organized all your canned goods. What's next? Adding a bit of wallpaper, natch! Elevate your kitchen corner by applying a pretty pattern for a stylish finishing touch. (via House of the Smiths)
Containers Galore
Farmhouse Style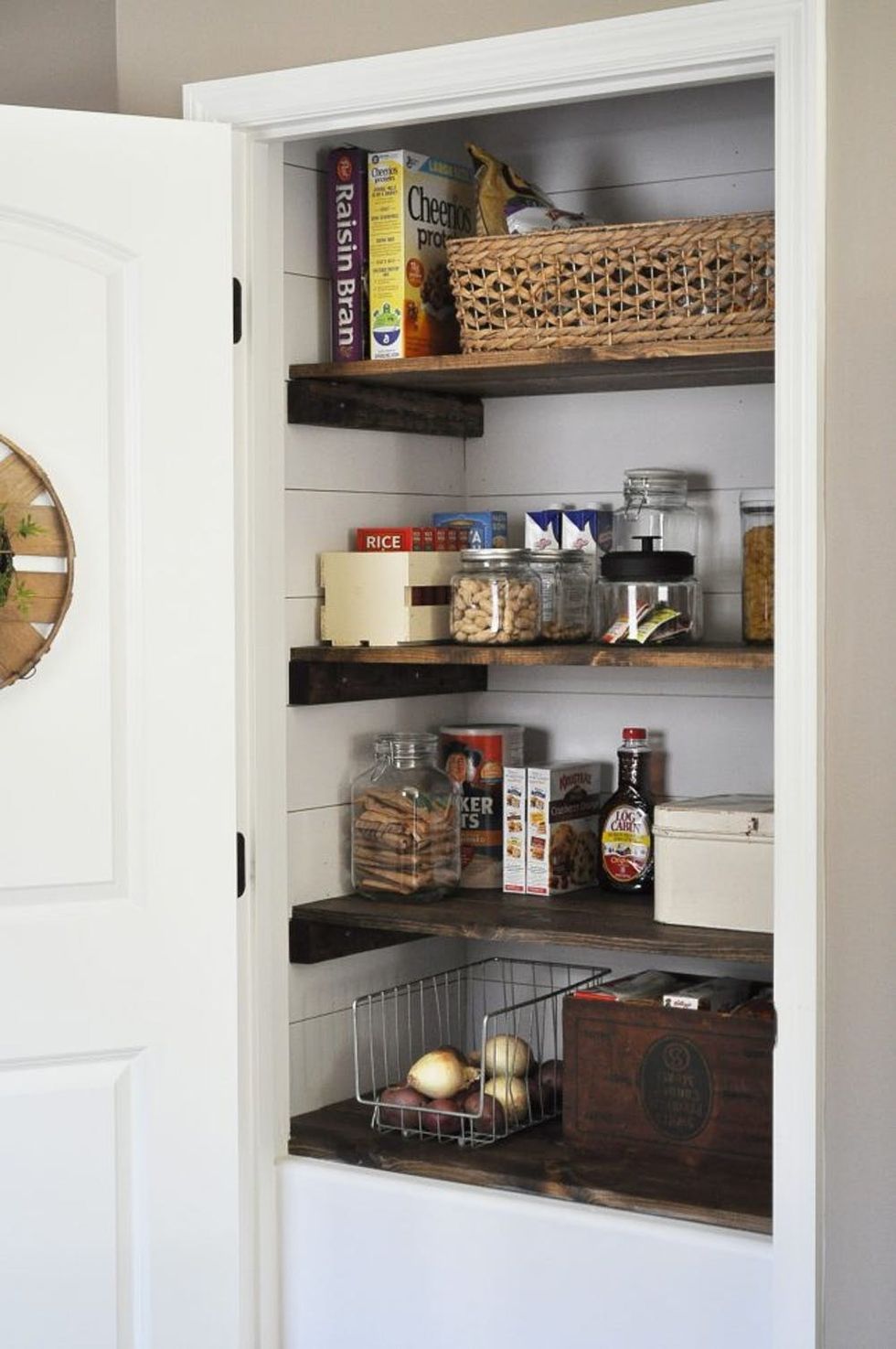 This is a pantry Ms. Patmore would definitely approve of. Give your space a charming, rustic appeal with dark wood shelves that'll add some warmth to the space. (via Little Glass Jar)
Ladder Help
BILLY to the Rescue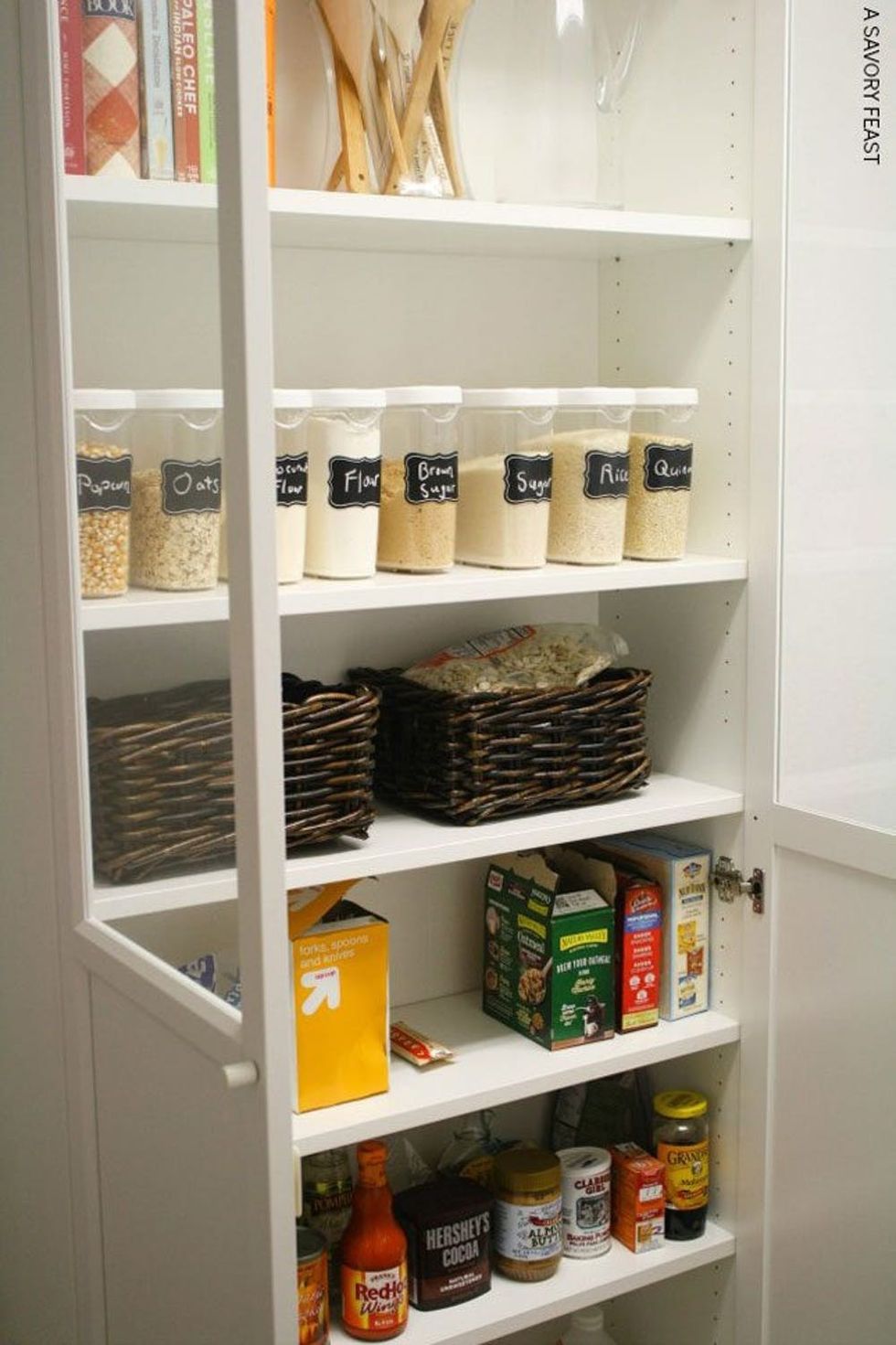 Revamping your entire home for the start of the new year? Before you toss out your old bookcase, repurpose it for your kitchen organization kick! This hack is perfect for kitchens lacking a full pantry space. (via A Savory Feast)
DIY $10 Pantry Chip Rack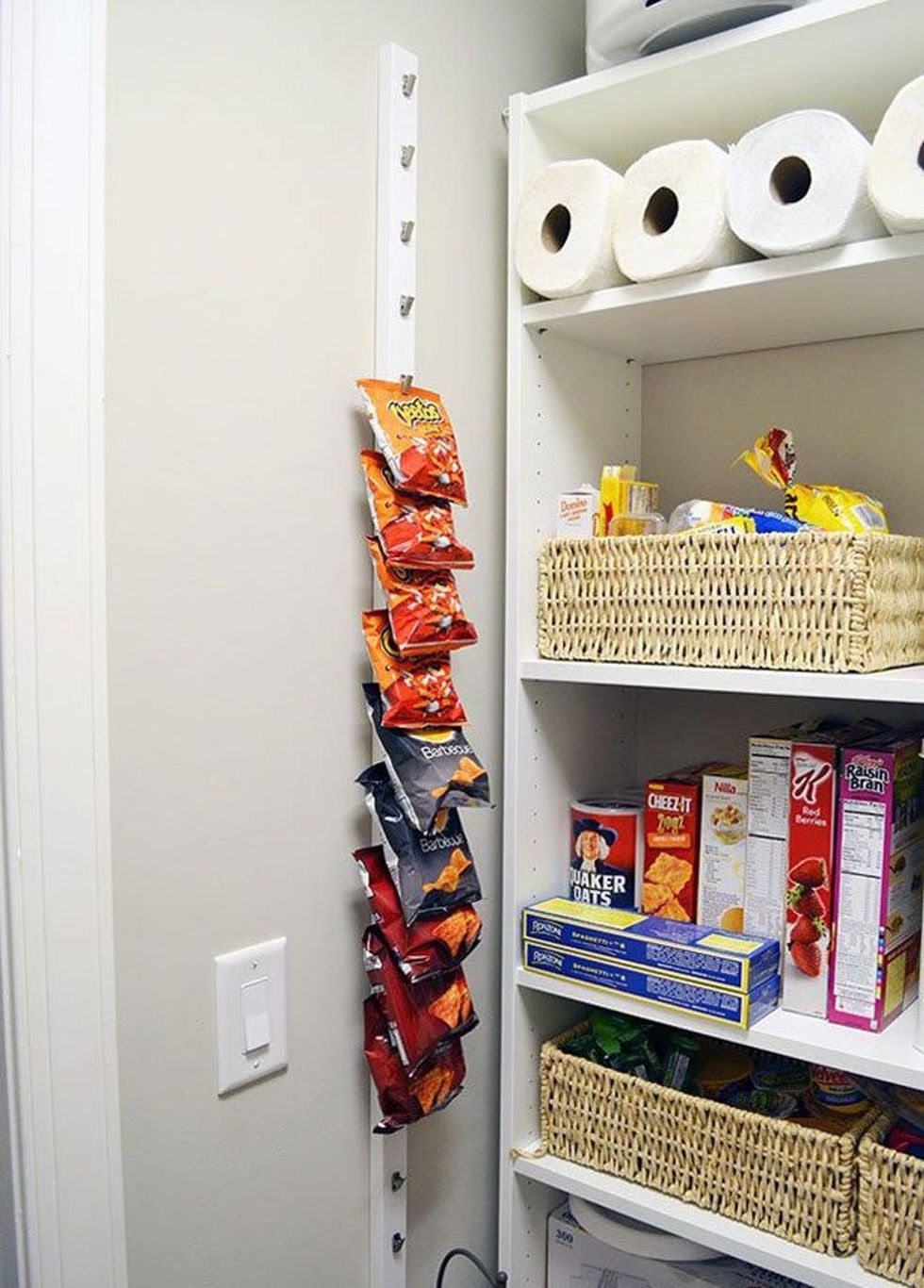 Put your midnight munchie addiction on full display. Organize your vast collection of savory treats with this wall-mounted chip rack. (via Eleven Magnolia Lane)
Shoe Rack Hack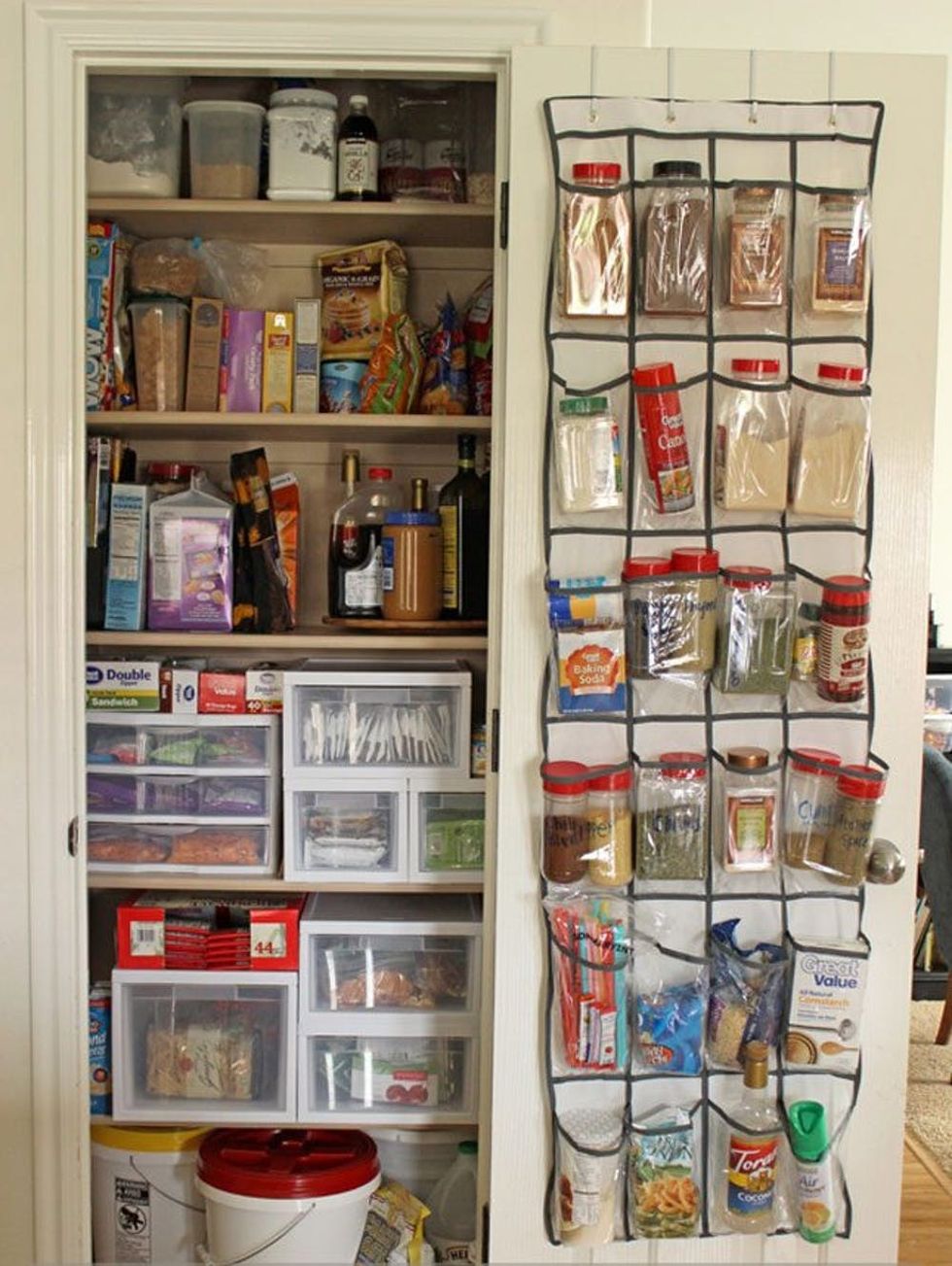 One man's shoe rack is another man's spice holder. Repurpose your old shoe rack as the perfect storage for all of your stray kitchen goods. (via Pretty Providence)
Pretty Pot Storage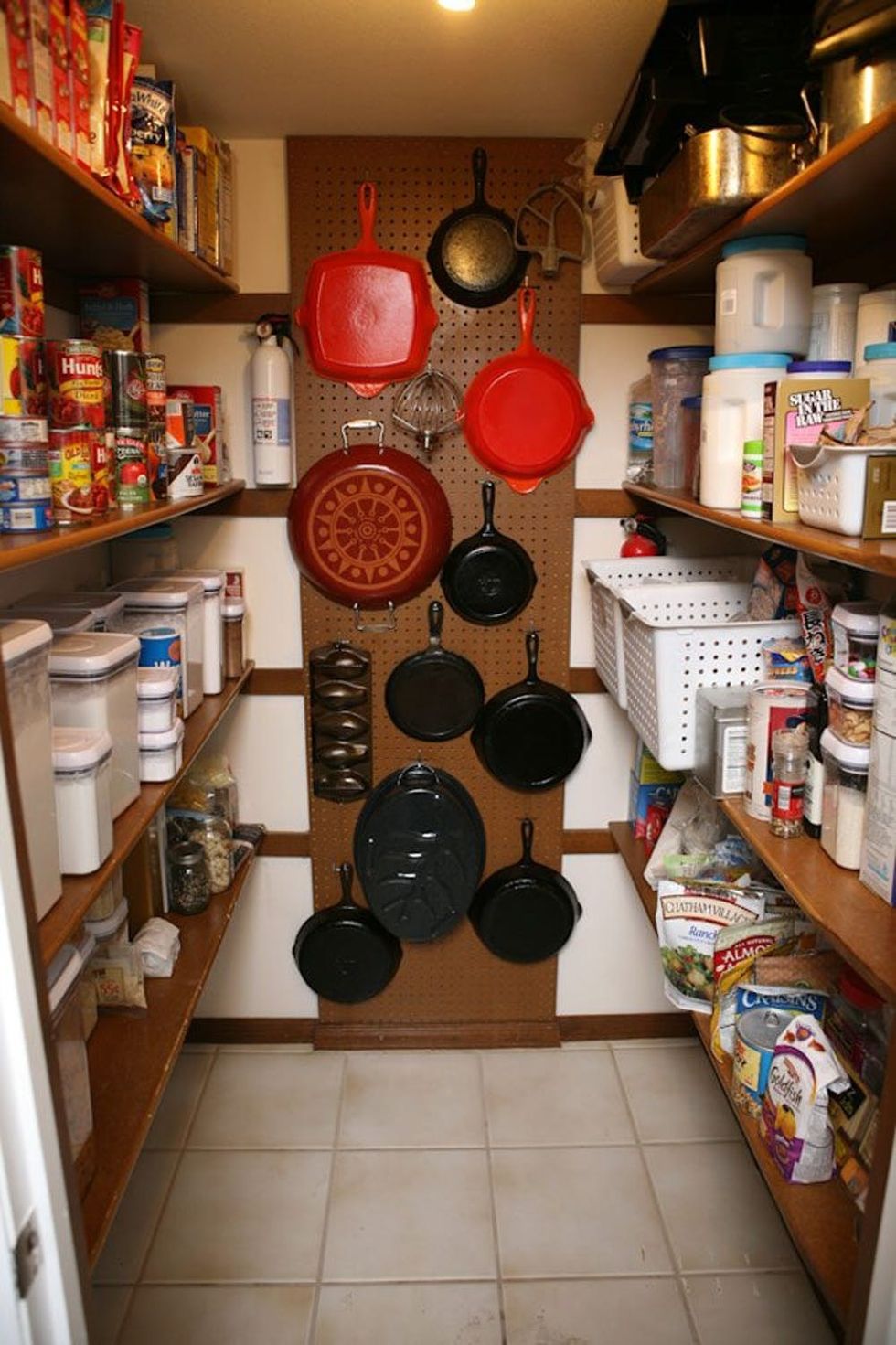 Pantry storage isn't just reserved for food. Utilize all the space by putting your pots and pans on display. (via Eclectic Everyday)
Luxe Labels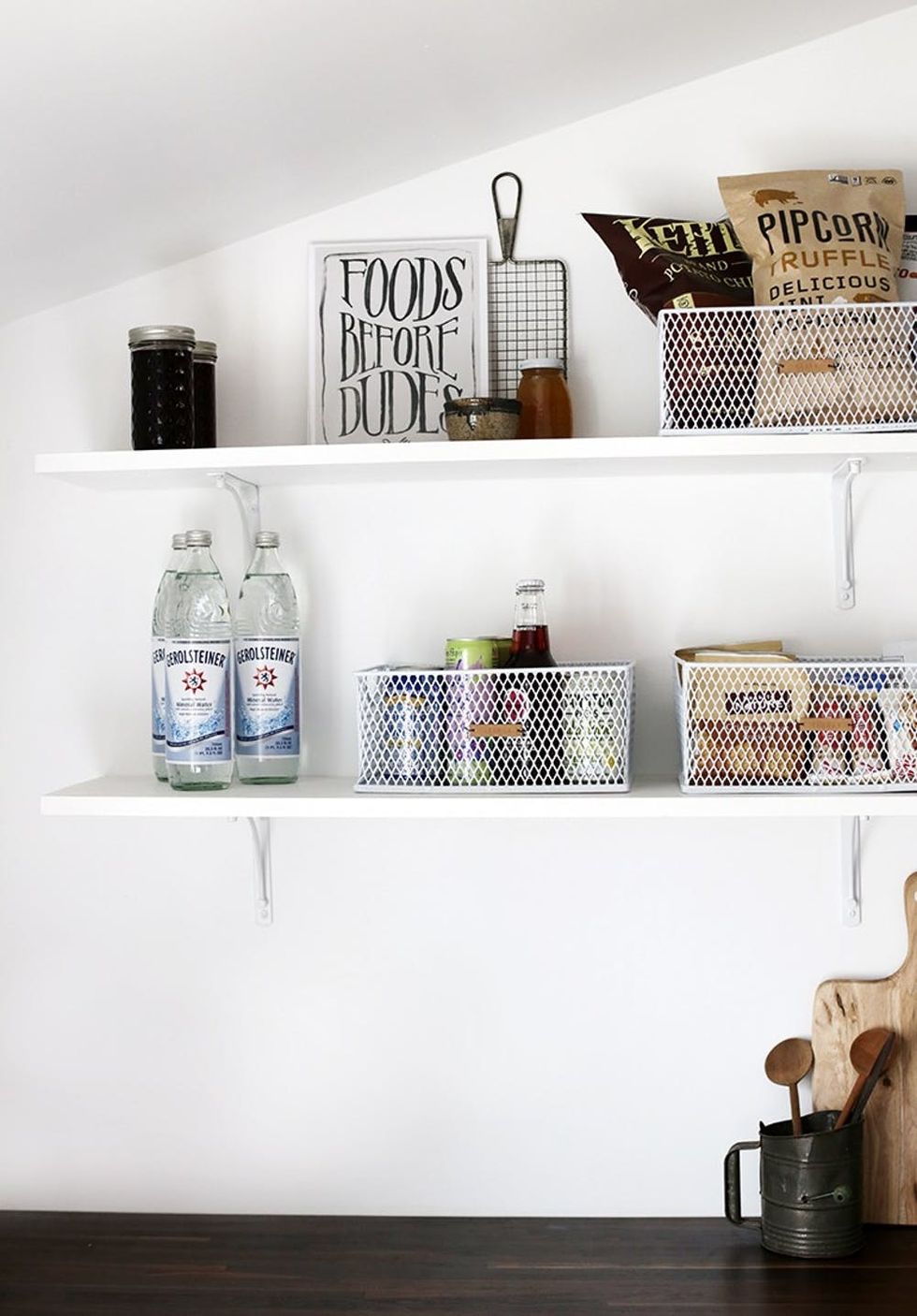 The quickest way to upgrade any pantry, no matter the size? DIY leather labels. So rustic-chic. (via The Merrythought)
Hot Chocolate Inspo
Undercover Kitchen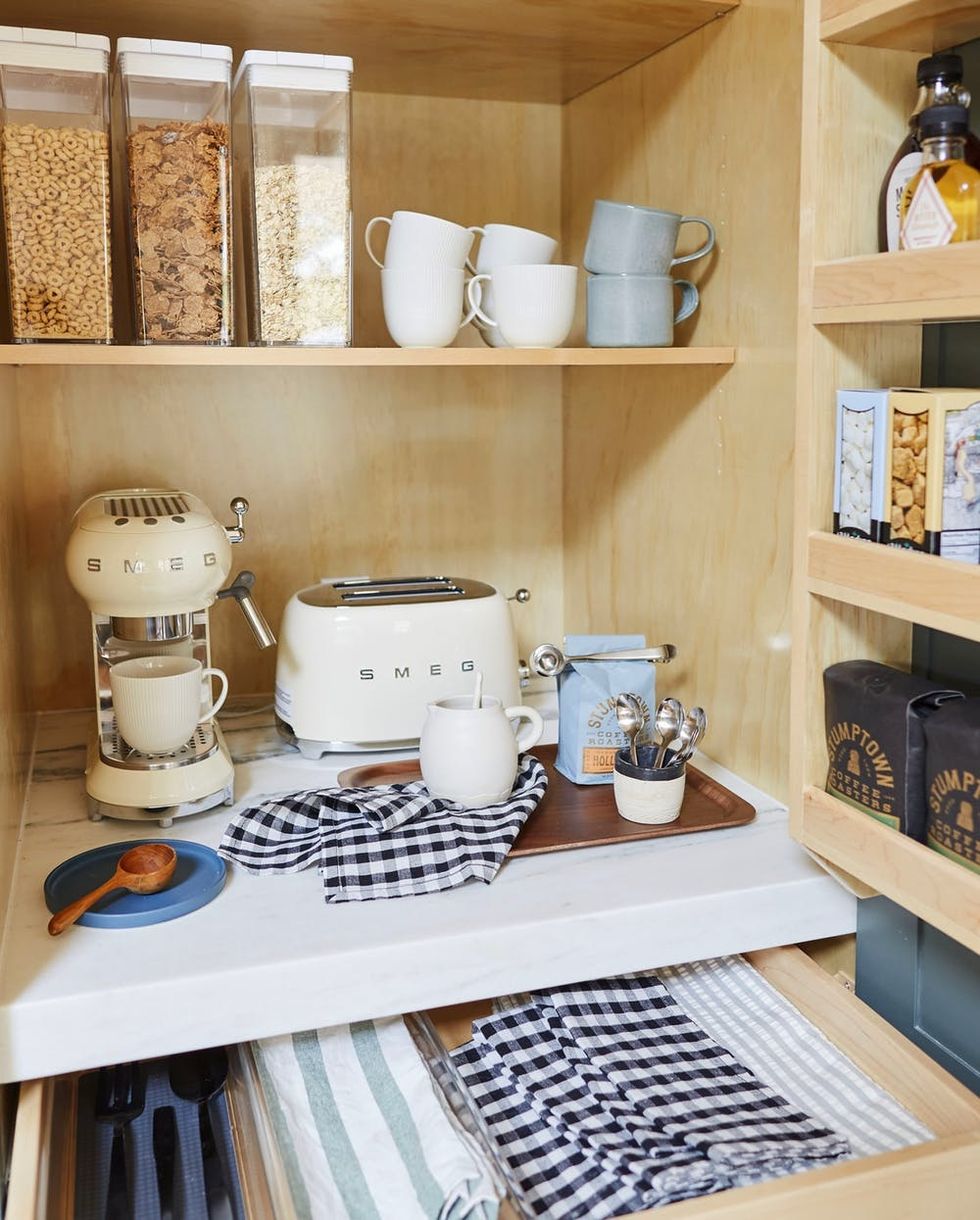 Not to be dramatic, but Emily Henderson may be the smartest person alive. Her kitchen cabinets are incredibly deep and actually continue the countertop inside… which means more space to use your appliances the way you want to, without the visual clutter. We're stealing so many tips from this post. (via Emily Henderson)
DIY Drawers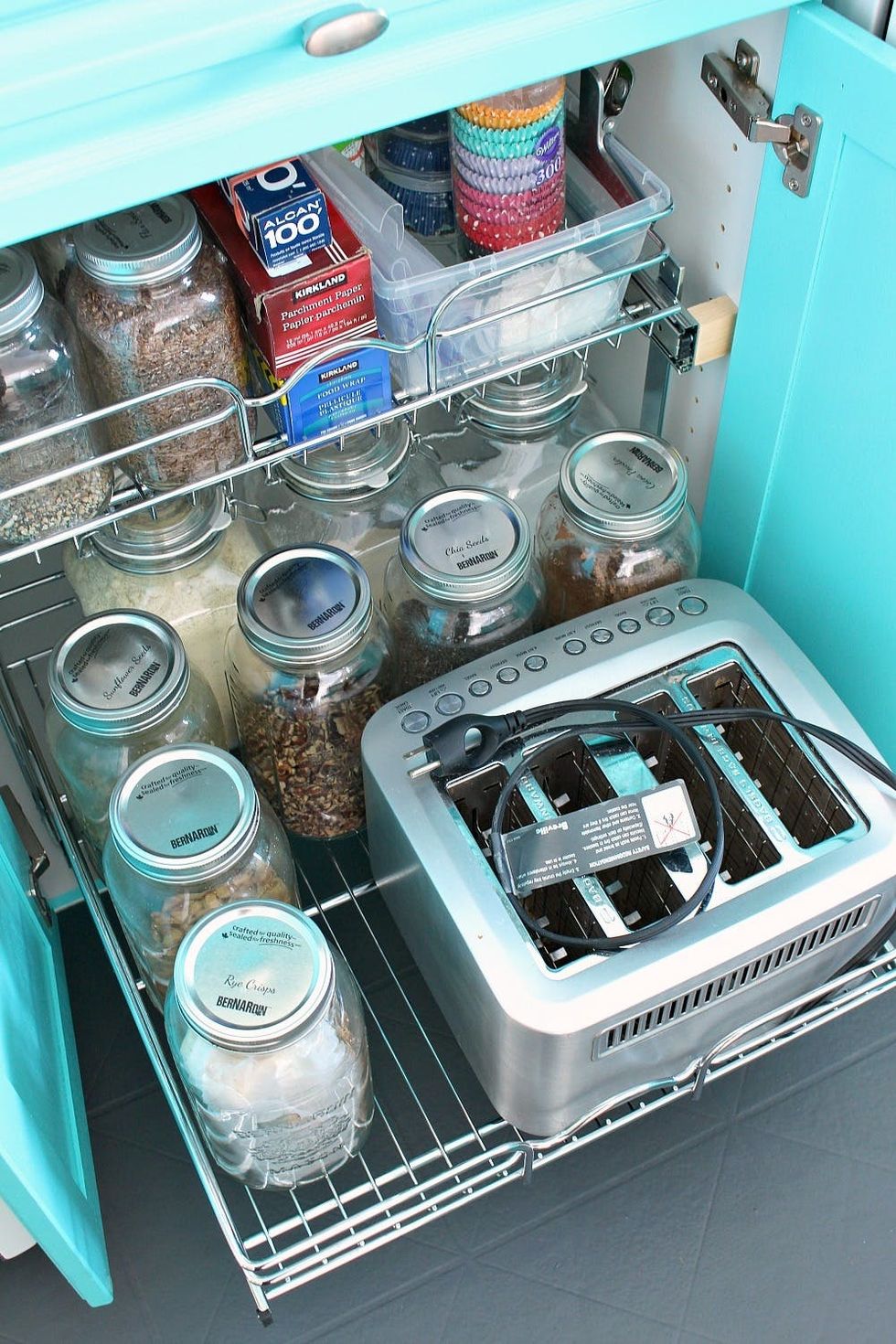 Not lucky enough to have a spacious pantry closet? Convert your lower cabinets into drawers for the next best thing. (via Dans Le Lake House)
Snack Happy
Farmer's Market Charm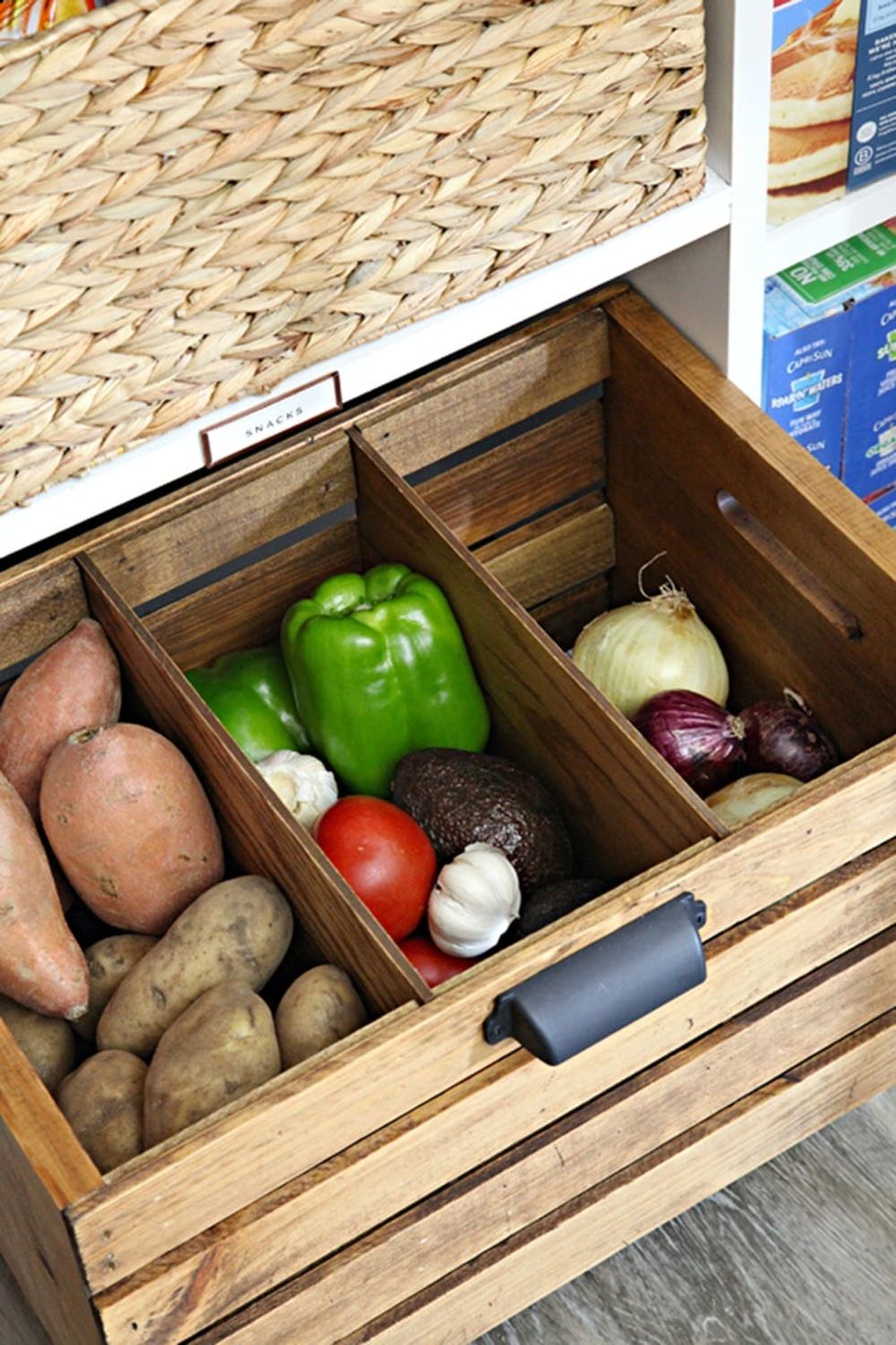 Possibly the best way to make use of space under your lowest shelves, these DIY produce crates have casters on the bottom for easy access. (via I Heart Organizing)
Paint With an Accent Color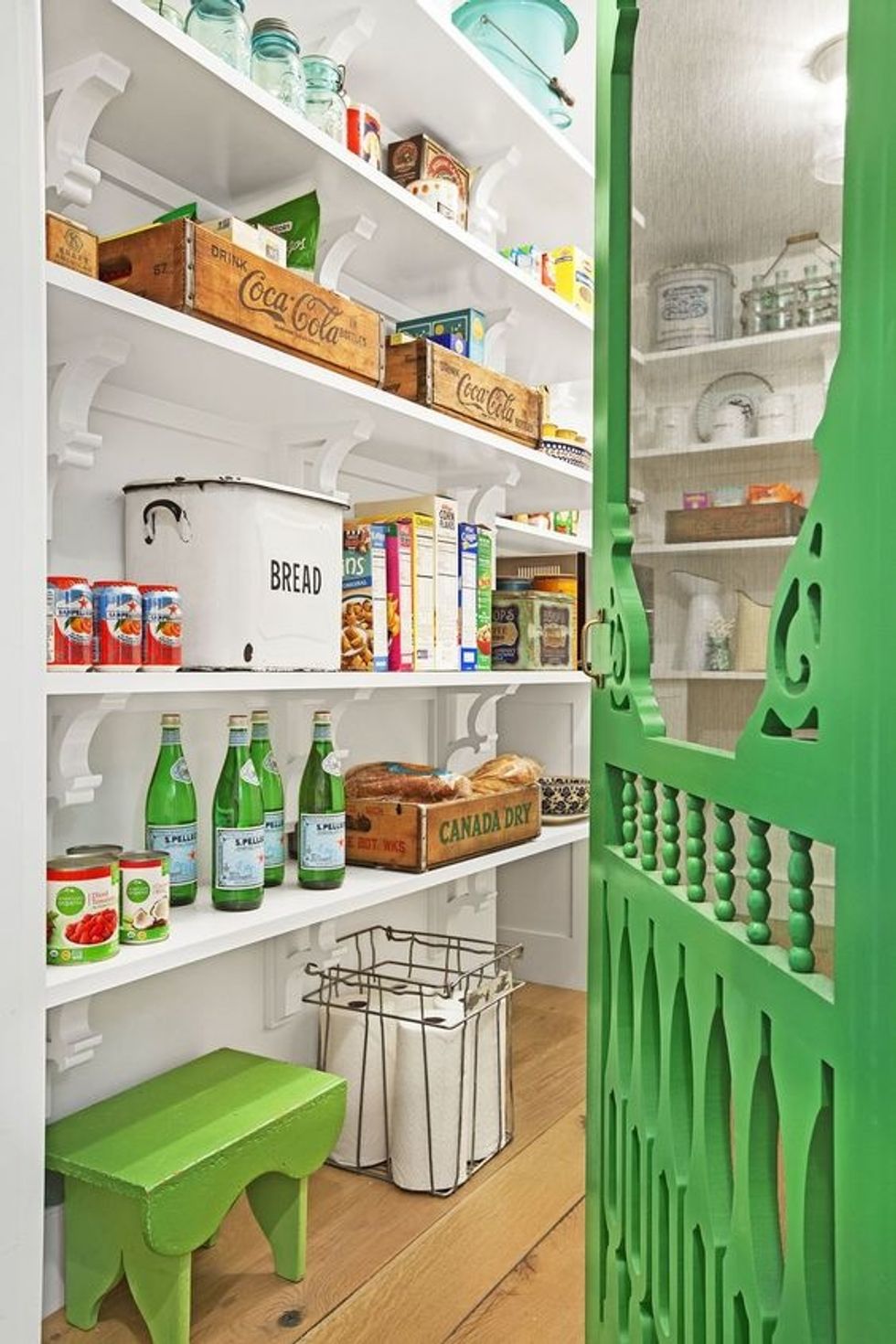 We love this idea to add a pop of green to your pantry entry. Designer Alison Kandler uses vintage storage boxes and a kelly green paint to add charm to this client's pantry. A pretty pantry makes cooking that much more fun! (via John Ellis for Country Living)
Setting any pantry #goals this year? Tag us @BritandCo!
This article has been updated from a previous post.