The new year traditionally inspires a healthy reset: a resolution to get in shape, focus on life goals, and eat better. While we continue to WFH for the foreseeable 2021 future we thought it was time to clean up our snack act. Here are a slew of snacky foods that are better than your go-to variety of chips, puffs, chocolates and jerkies. Have the munchies? Reach for these instead.
---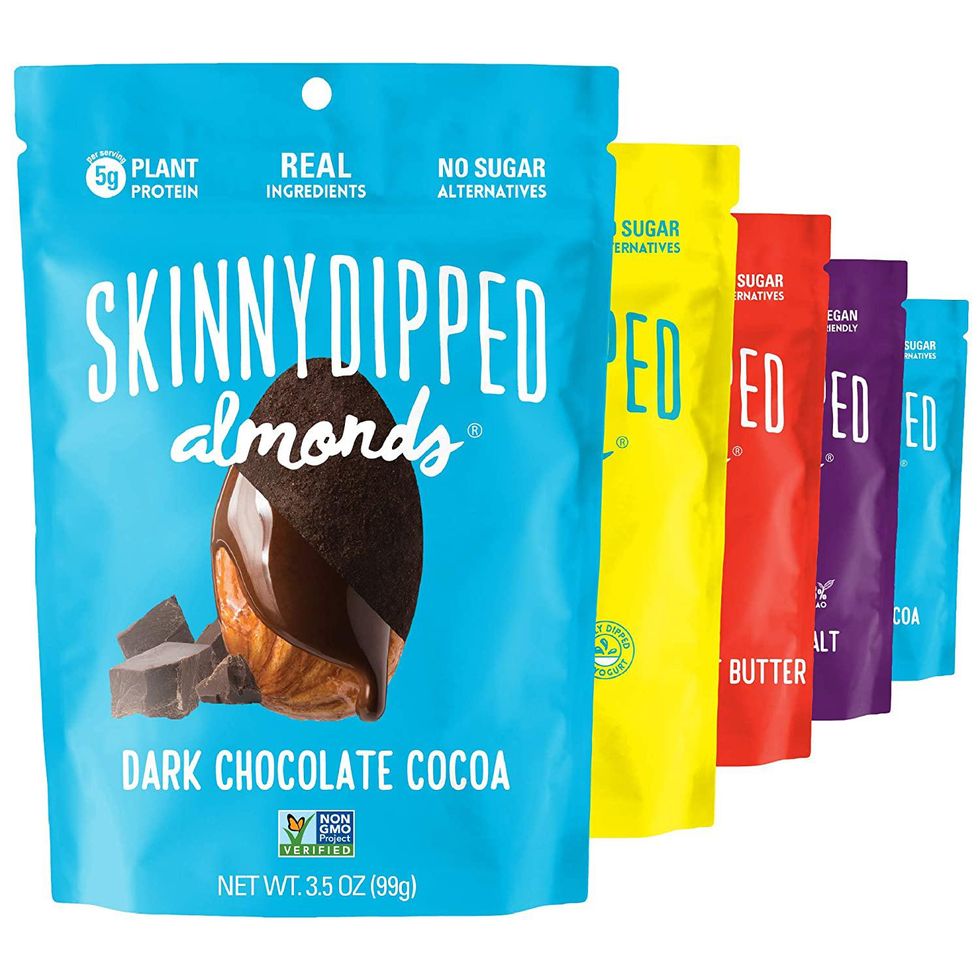 SkinnyDipped Almonds ($27/5-pack)
Score some healthy fats with these sweet yet low-sugar almonds that are gluten-free and made without artificial ingredients. They're also ridiculously delicious!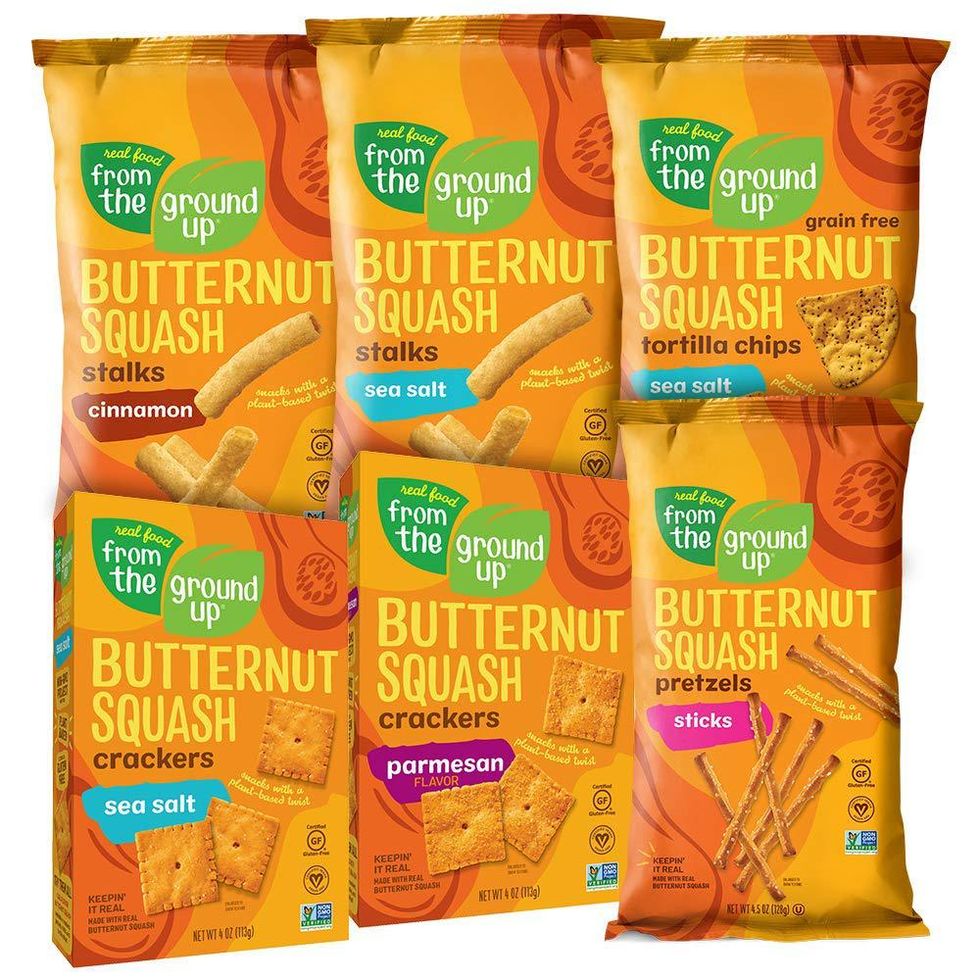 Real Food From the Ground Up Butternut Squash Crackers ($24/6-pack)
Made with butternut squash and other real veggies like cauliflower, these vegan and gluten-free crackers and chips are a great alternative for your usual salsa dippers.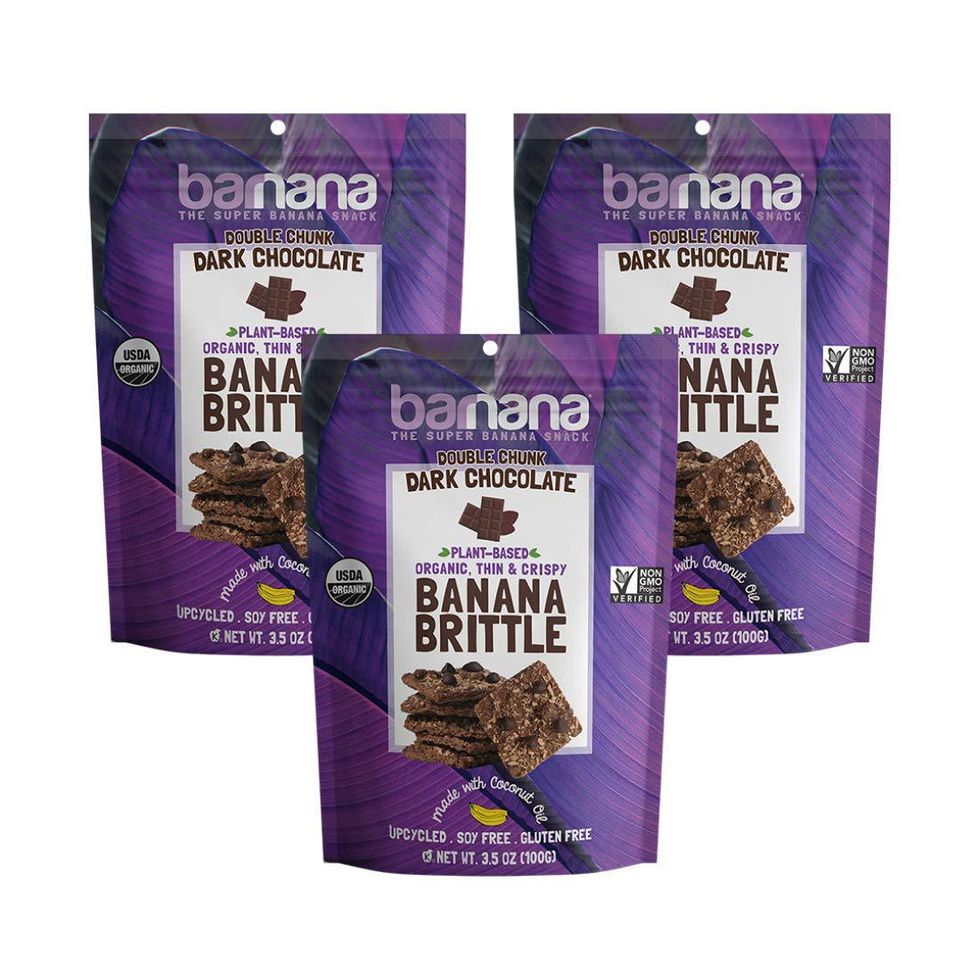 Barnana Organic Crunchy Banana Cookie Brittle ($14/6-pack)
We munched on these along a holiday road trip and they barely made it 5 miles. They have just the right amount of dark chocolately crunch with a hint of banana flavor (made from bananas that are sustainably upcycled so they don't go to waste). Also: organic, non-GMO, gluten-free, vegan and kosher.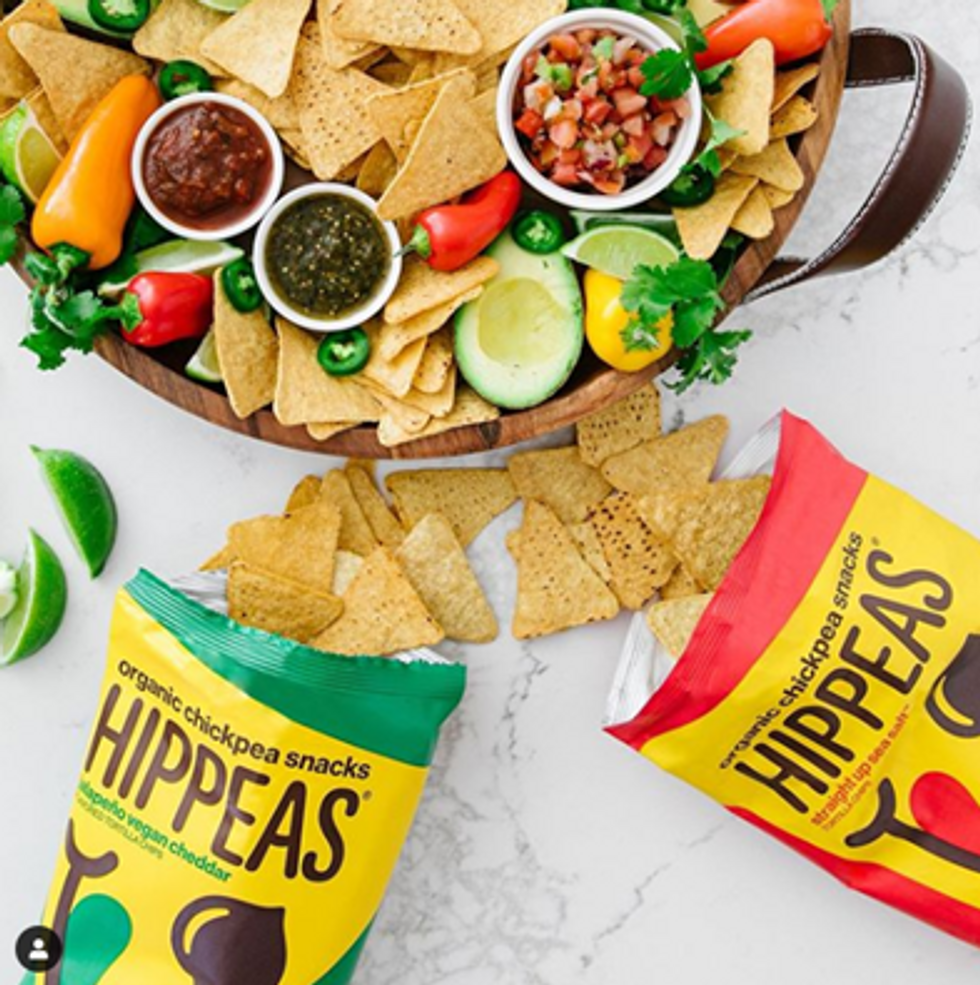 Hippeas Organic Vegan White Cheddar Chickpea Puffs ($5)
These baked vegan snacks are full of plant protein and fiber and are perfect when you're craving a cheesy crunch.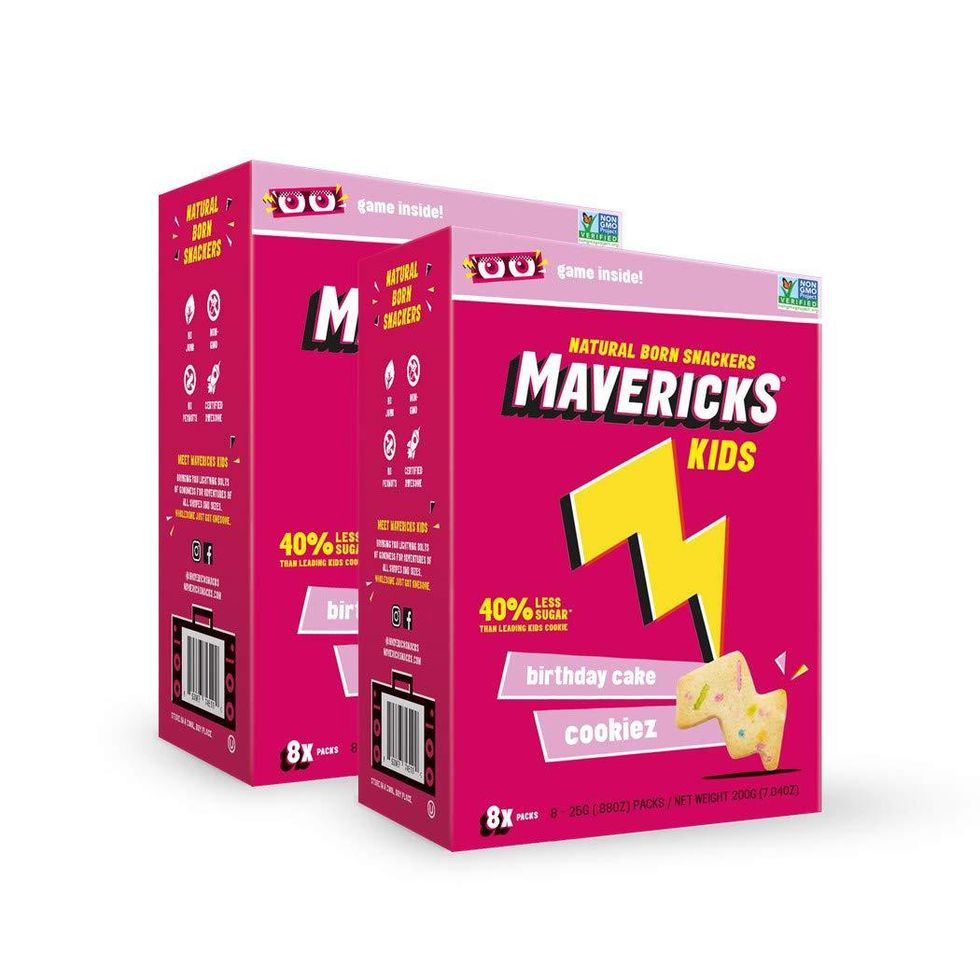 Mavericks Kids Birthday Cake Cookies ($10/16 bags)
Kids asking for snacks throughout the online school day? These low-sugar cookies are great for at home and on-the-go, plus they're non-GMO and free of artificial colors, preservatives, and syrups.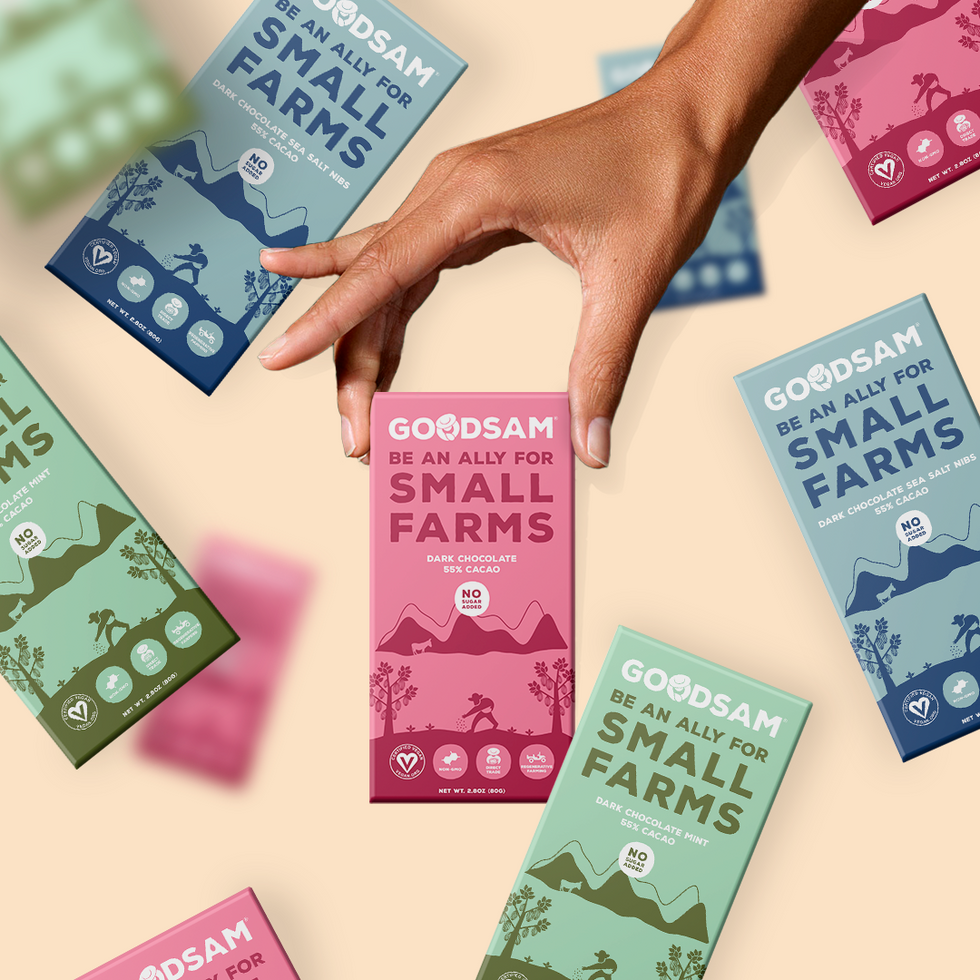 GoodSam Foods Sugar-Free Dark Chocolate Bar ($4)
Vegan chocolate for the win. Grab one of these keto-friendly bars next time you're in need of a chocolate fix. And for dessert, try their Vegan Miso Chocolate Cake, yum!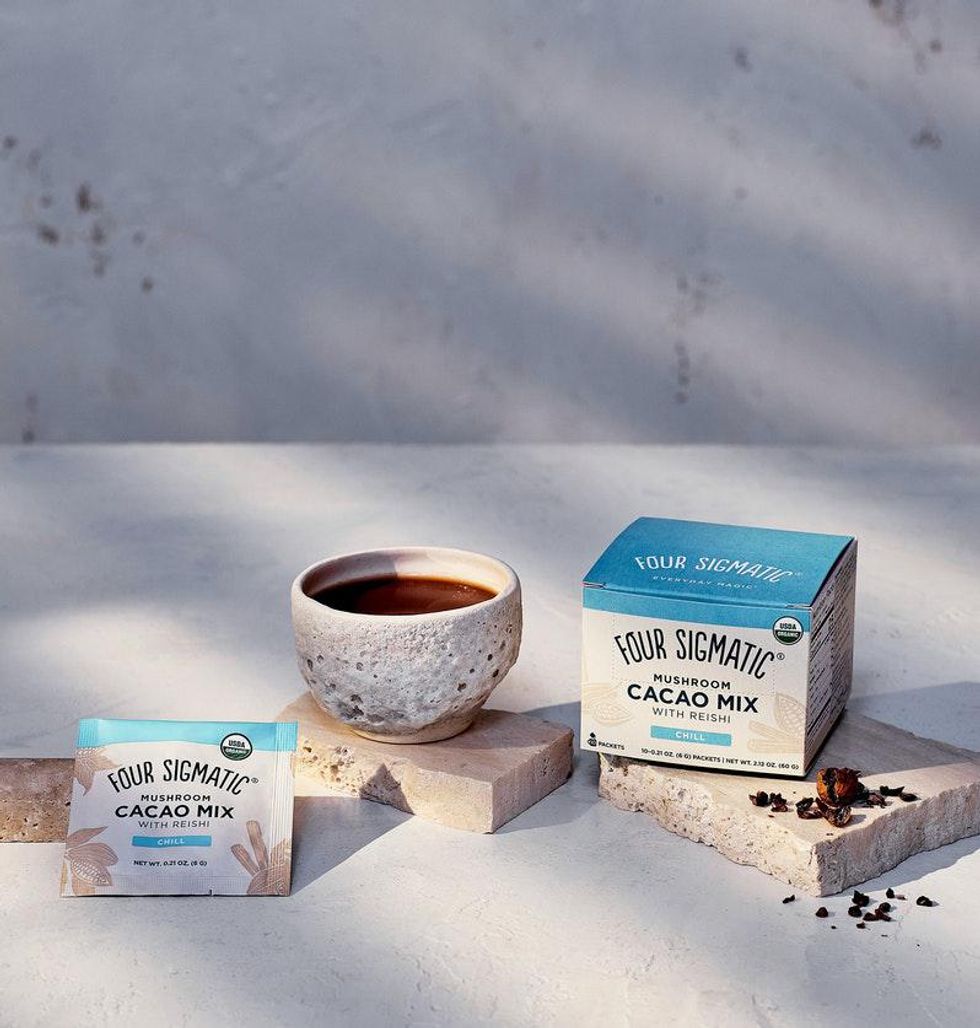 Four Sigmatic Mushroom Cacao Mix with Reishi ($20/10 servings)
Reishi mushrooms offer a host of health benefits (like immune- and mood-boosting) and mixed with organic cacao in a gluten/dairy-free hot chocolate, they are a great swap for your morning cup of joe.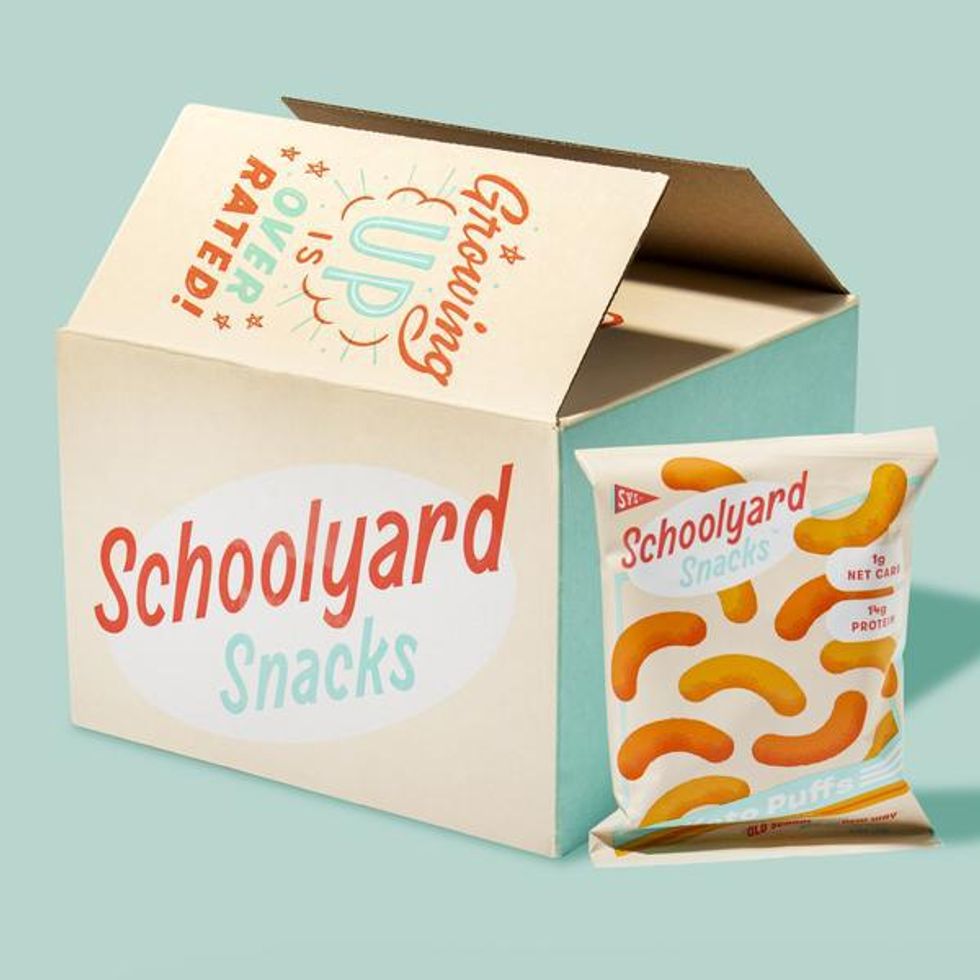 Schoolyard Snacks Keto Cheese Puffs ($50/24 bags)
Keto cheese puffs? We're sold! These grain and gluten-free snacks are low carb and tasty to boot!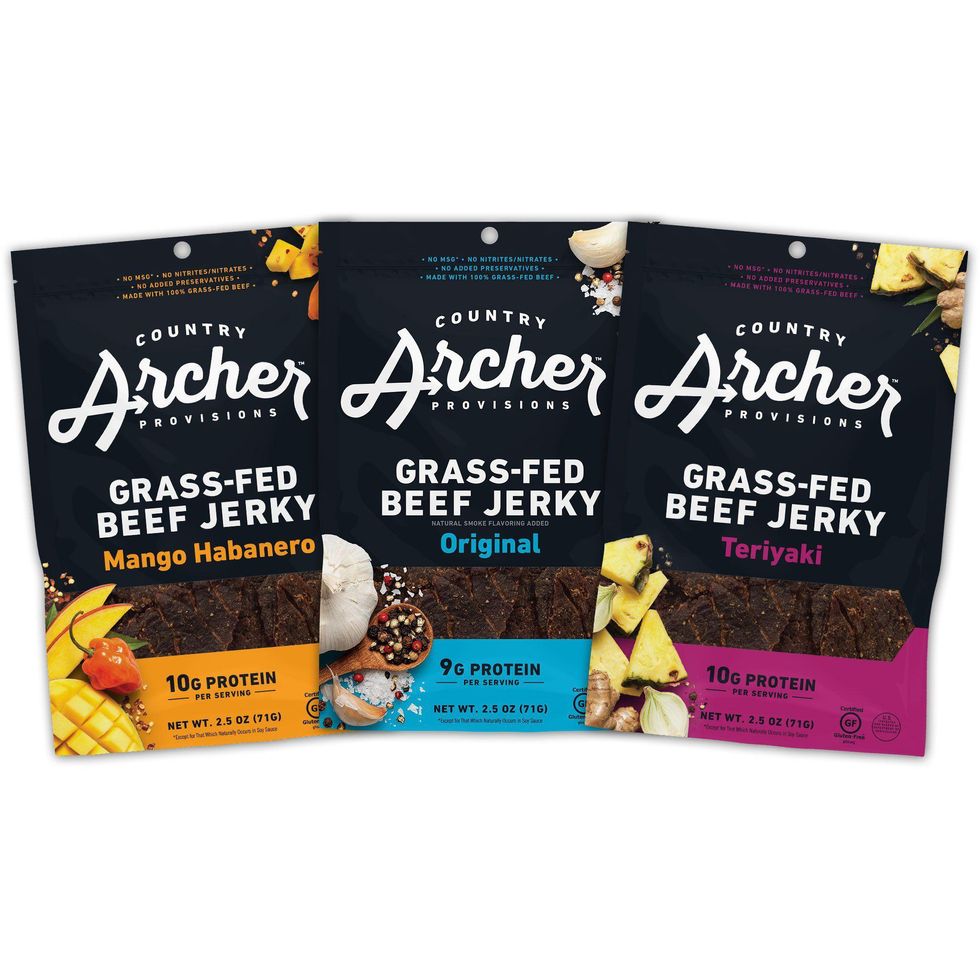 Country Archer Provisions Grass-Fed Beef Pack ($18/3-pack)
For carnivores, these low-sugar, gluten-free jerkies are made with grass-fed beef, no nitrates or msg, and come in delicious varieties like teriyaki and mango habanero.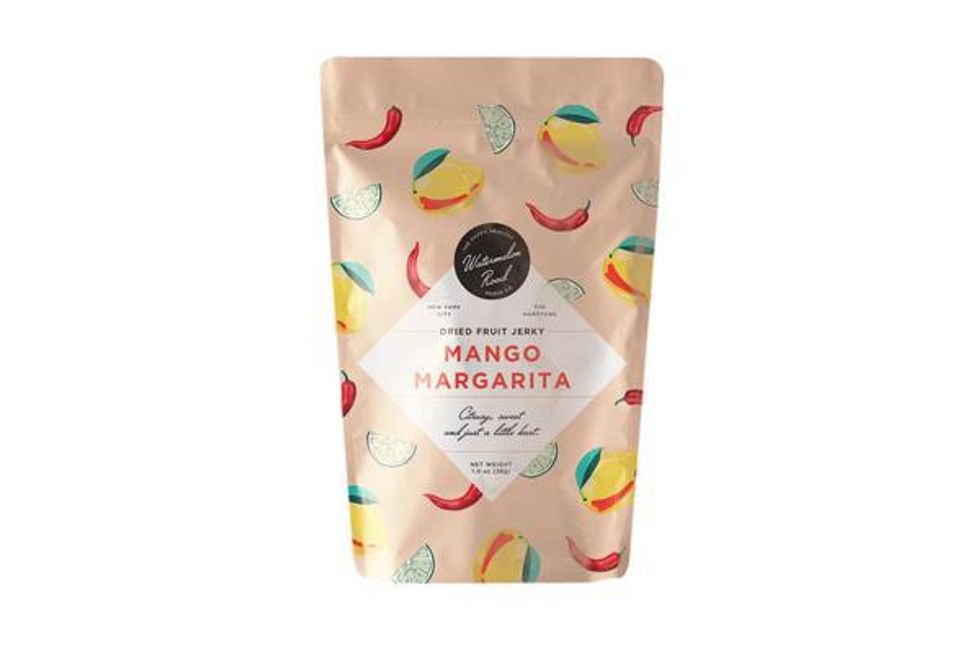 Watermelon Road Snack Co. Mango Margarita Fruit ($9)
Prefer a vegan jerky? Try this mango margarita dried fruit leather made in small batches in Brooklyn.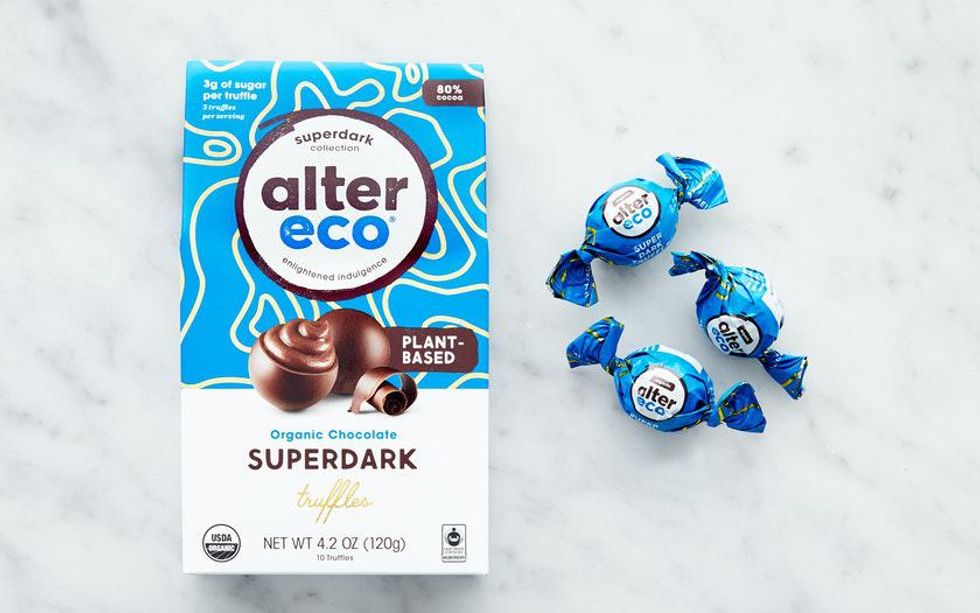 Alter Eco Organic Chocolate Superdark Truffles ($8/10)
These sustainably-made dark chocolate truffles have a coconut oil-based ganache inside that's so rich one is enough to get you through the after-lunch slump.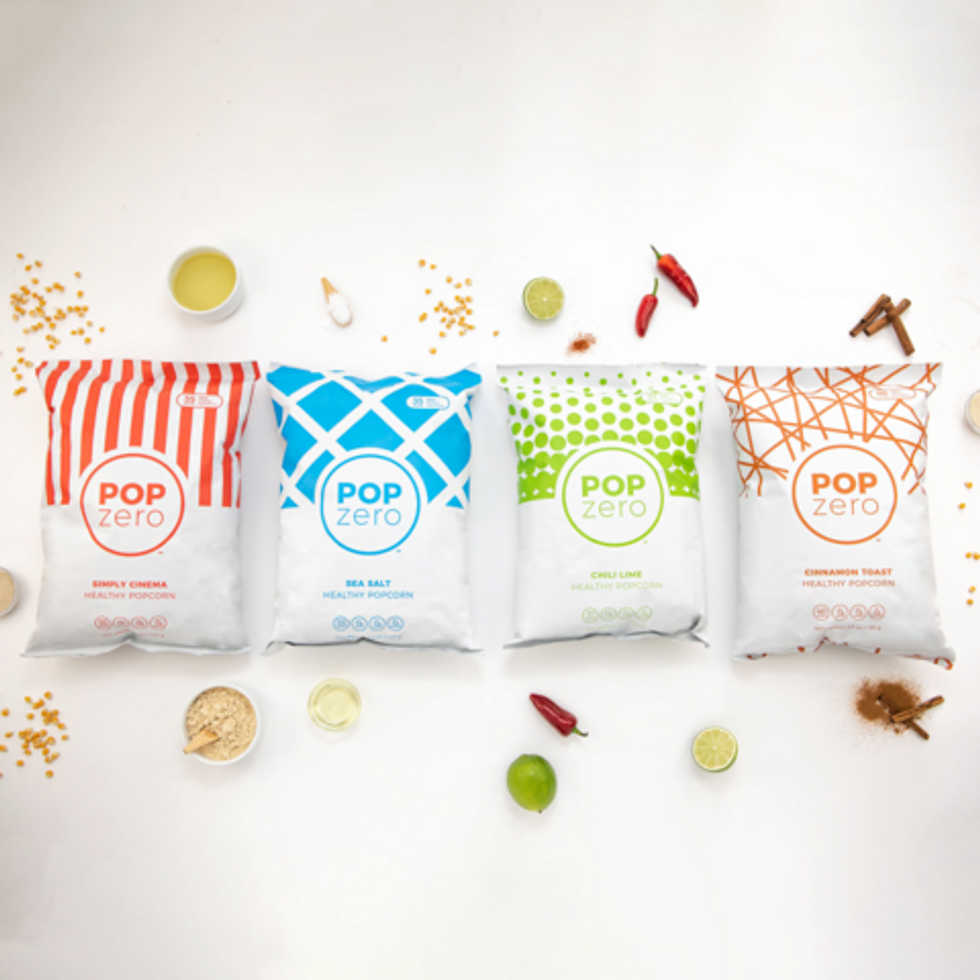 Pop Zero Popcorn ($15/4-pack large)
Swap your usual kernels for this algae oil-based, gluten-free variety. Algae is high in monounsaturated fats (the good kind) and omega-3 fatty acids. Pop Zero also has some fun flavors like Simply Cinema (classic), Cinnamon Toast, Sea Salt and Chili Lime.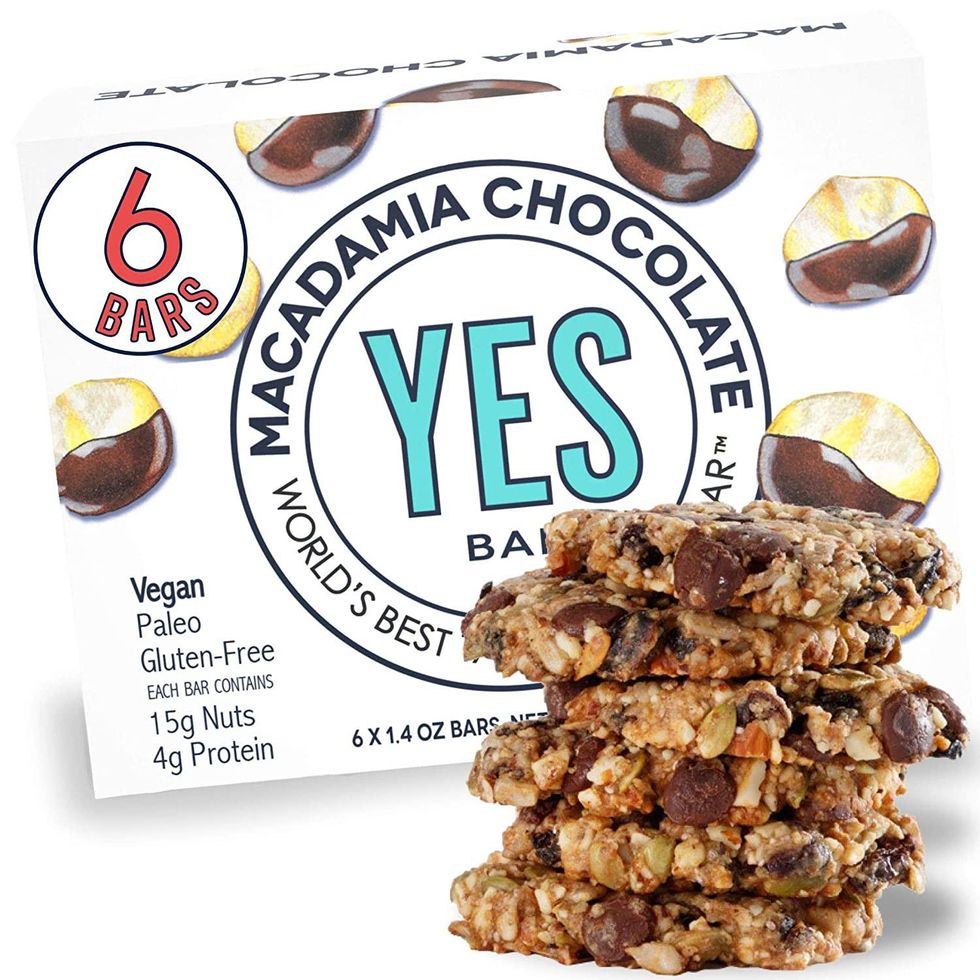 Yes Bar Macadamia Chocolate ($14/6 bars)
We have yet to meet a macadamia nut we don't like. These buttery, nutty and chocolatey bars also have tart cherries and a pinch of French sea salt for the perfect salty-sweet treat. They are also low in sugar (sweetened with maple syrup and coconut nectar), paleo-friendly and free of GMOs, gluten, grains, dairy, soy and eggs.
What are you snacking on these days? Share with us @BritandCo!
Brit + Co may at times use affiliate links to promote products sold by others, but always offers genuine editorial recommendations.